Epilepsy is one of the most common brain disorders in America, actively effecting roughly 3.4 million people nationwide. A disorder housed in the Central Nervous System (CNS), Epilepsy is primarily characterized by the presence of seizures that can effect the whole brain (generalized) or a portion of the brain (focal). Given the dynamic existence of the disorder, it has proven to be a very challenging one to treat. Utilizing the benefits of multiple medical practices, patients often see a benefit in including a more integrative and holistic care approach to their health plan, opposed to a singular one.
Candace Parsley, an AOMA Doctoral student who is studying epilepsy, has seen firsthand the benefits of an integrative approach both for her patients, as well as herself.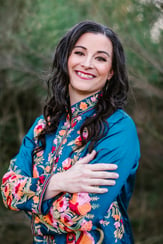 One of the primary benefits she has seen is Acupuncture and Traditional Chinese Medicine's ability to help alleviate some of the common challenges of epilepsy, including the side effects of anti-seizure medication. Acupuncture and TCM have a long-standing history of being helpful in treating digestive issues, stress reduction, and sleep deprivation and disorders, all of which are common issues individuals with epilepsy face. In collaboration with Western Medicine and pharmaceuticals, holistic medicine provides a way for individuals to customize their health treatment programs in a way that is better tailored towards individual success and well-being.
An integrative approach to epilepsy care can be increasingly beneficial in optimizing the full scope of patient care. Lifestyle management, an important element in treating epilepsy, can take on a new and potentially more impactful position under the guidance of a Chinese Medicine Practitioner. In response to the topic of agency, Parsley mentions that "the capacity for integrative medicine to empower choice and agency on the part of the patient and have that vested interest in their health where they are the ones making the decisions and they are actively involved in making their care plans, is a game changer for a lot of people. Especially in regard to the epilepsies."
For many individuals with chronic illness, the ability to have an option on how their health is managed is often limited within a singular care system. Regarding epilepsy, integrative care has the potential to restore a sense of agency and control for an individual's health story by providing them the option to customize a treatment plan that best works for them. While epilepsy is often a lifetime diagnosis, with proper patient care, individuals can find a way to live a happy and healthy life with this chronic disorder. The beauty of integrative medicine is in its ability to gift such a life to its patients, reinforcing the power of integrative care.
Looking to learn more about how Acupuncture and TCM can help assist in epilepsy care? Check out the following resources!
https://www.epilepsy.com/learn
https://pubmed.ncbi.nlm.nih.gov/21689988/