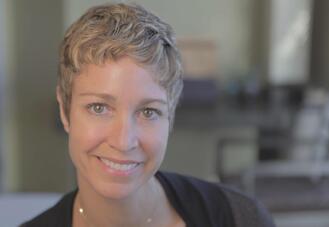 Gail Daugherty never expected a chronic shoulder issue to land her in acupuncture school, studying Chinese medicine. As a competitive swimmer and triathlete, she had been experiencing severe shoulder pain and limited range of motion that began affecting her sleep, mood, and ability to perform certain tasks. The doctors wanted to inject steroids and were even thinking of surgery.
Gail, with her PhD in holistic nutrition and abundance of body awareness, wasn't interested in either. A fellow triathlete recommended acupuncture and she thought, "No way! That sounds like it hurts and it probably doesn't even work."
A year later with worse pain and greater limited range of motion, another triathlete gave her the number of her acupuncturist. Gail begrudgingly committed to 10 sessions with major reservations. Although it took three months to notice a difference in her shoulder, she eventually ended up pain free with complete range of motion returned. Gail was hooked. Not only was she an avid believer in the effectiveness of Chinese medicine, she began cultivating a strong interest in learning how to do it herself.
After her personal experiences with the medicine, acupuncture school was always in the back of her mind, and she would check out schools every time she looked for a new place to live. Her opportunity to study acupuncture serendipitously presented itself at last while she was working in Mexico. She received a call from Santa Barbara College of Oriental Medicine asking if she would be interested in teaching Biochemical Nutrition at their school. It was an irresistible opportunity to live in a beautiful community by the ocean and learn more about acupuncture. After her first trimester of teaching, she began taking classes. Though she began her studies in California, Gail eventually decided to transfer to AOMA Graduate School of Integrative Medicine where she completed the Master of Acupuncture & Oriental Medicine program.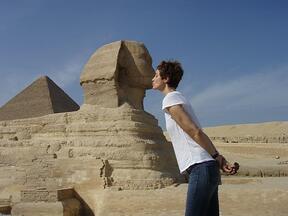 Three days after her 2009 graduation she went to work on cruise ships as an acupuncturist. She traveled the world and saw places she never thought she would get to see (like the Great Sphinx of Giza), all the while learning how to talk to people about acupuncture and encourage them to try it.
"I was very fortunate to work on the largest cruise ship in the world, Royal Caribbean Allure of the Seas. I saw between 80-100 patients per week, which really allowed me to hone my skills and find my specialties," Gail said.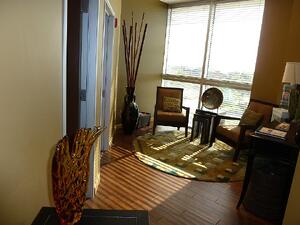 Now Gail is a licensed practitioner and the Clinic Director of Pain Free Acupuncture Clinic in Dallas, Texas. Her clinic has two locations, one in Plano at the Willow Bend Wellness Center and one in Craig Ranch inside The Cooper Clinic. She will be opening a third site at The Cooper Clinic's Dallas location next year and is in the process of interviewing and hiring several acupuncturists. She specializes in pain management, injury recovery, allergies, and stress reduction using traditional Chinese medicine (TCM), Dr. Tan Balance method, and NAET (Nambudripad's Allergy Elimination Techniques).
When reminiscing about her time spent at AOMA, what sticks out most to Gail is working at White Crane (now AOMA Herbal Medicine) and smelling and touching the herbs, seeing how people were using them, and being immersed in the learning environment there. "The people I met at AOMA were incredibly diverse, but we continue to be uniquely bound. It's wonderful to share an intense experience with so many wonderful people," she said
One of Gail's current business ventures involves acupuncture business coaching services and a related workbook.
"I've written a workbook and have a coaching practice to help acupuncturists be successful and inspire them to get over their fears and obstacles," Gail said. "I've been working with therapists, acupuncturists, and massage therapists to help them want to get out of their comfort zone, because that's where the magic happens."
According to Gail, it's all a matter of perspective. "Once practitioners can get to the point where they see no other option but to be successful, they are," she said. "The trick is for them to know where they are right now, where they're heading, and finally -- how to get there."
Growing her practice, all the while helping other practitioners be successful, has really brought Gail's love of helping and healing people to a whole new level.
With a blossoming career to show for all of the hard work she has put in, she clearly has an abundance of excellent advice for other acupuncturists entering the field.
"Find which acupuncture styles and conditions you are the best at using and treating; it's important to choose 1-3 things that you are really, really good at treating," Gail said. "I think it's a mistake to want to treat everything. Would you go to a doctor that treats asthma, delivers babies, and does heart surgery? I wouldn't. I want to go to the best doctor for each issue that comes up."
Gail's secret formula to success in the field?
1. Get out of your office and talk to people
"If you want to work for yourself you have to wear many hats," Gail says. "Most of those hats are things you don't like doing. Make a commitment to get out of your office four hours a week and go talk to people. Since my practice focuses on pain and injury, I set up a table with my liquid herbs, brochures and some needles and let every single person that walks by me know that I'm an acupuncturist and I'm here to answer any of their questions. Some people breeze by and try to ignore you, but most people are very interested in TCM. It's uncomfortable, but so is sitting in an empty office waiting for the phone to ring."
2. Know your craft and be the best you can at what you do
"Don't be afraid to refer. I specialize in pain, stress, injury, and allergies. I have gotten to know several acupuncturists in the area and I refer to them when it's an issue that doesn't fit my style. The growth of my practice has not suffered. There are plenty of people to support your practice."
3. Have passion for what you do
"Ask for help," Gail says. "Most people want to help, especially if you ask for something specific. For example, I've asked patients to mention me to three people they talk to that day and give them my card. Your patients love you and love the work you're doing. They want to help you be successful, but they may not know how.
Collect testimonials while you are in school and with every patient once you're out. Ask your patient to take a moment before or after their treatment to write a few words about you, your clinic, and their experience working with you. I also keep a flip camera on hand and a waiver to record them and post it all over the internet. You can check them out at www.PainFreeDallas.com."
She also highly recommends not being afraid of competition. "The more people there are talking about acupuncture, the more people will know about it," Gail said. No matter where you live (even Austin or California), there are plenty of people to support your practice."
But Gail's most important recommendation is this: Enjoy every minute of it. "Most people don't have the ability to transform lives. We get to do it every day. You have an amazing gift."