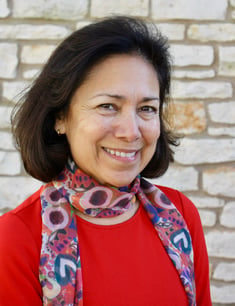 In honor of Hispanic Heritage Month, we recently sat down with AOMA President and
CEO Dr. Mary Faria to learn more about how she came to be at AOMA, her commitment to creating a more diverse and inclusive environment on campus, and how the power of acupunture has helped her to be a better runner.
Hi Mary! What is your role at AOMA and how long have you been with the school?
Hi Maxwell. I serve as the President and CEO of AOMA. I joined AOMA in January of 2018.
What initially drew you towards how the study of Acupuncture and Integrative Medicine is practiced here at AOMA?
I worked for a large healthcare system for close to 25 years. We worked with AOMA in our community clinics. The value this medicine brought was extraordinary. The integrative model that was created not only demonstrated better patient outcomes through an integrative approach, but also reduced emergency room visits, hospitalizations and provided a more holistic approach to patient care that patients respond to very well.
I also have utilized an integrated approach for my own health. Through an active lifestyle, good nutrition, mindfulness and taking advantage of acupuncture and herbal treatments I've never needed to take medications or more invasive procedures. I'm passionate in my belief that integrative care models that include acupuncture, herbs and other alternatives can transform healthcare in this country.

AOMA has a diverse set of faculty, staff, and students from across the globe, and as one of the only Hispanic-American Presidents within the field of Acupuncture and Chinese Medicine, how important has creating a more diverse and welcoming environment on campus been to you?
It has been very important to me. I'm a believer in the richness that comes from diversity. It was important to have a role at AOMA dedicated to helping us find ways to be more inclusive and I'm so pleased we have that in place with our Sr. Director of Student Services and Inclusion and Diversity. Our Governing Board has embraced this, and we have begun the process of intentionally inviting new members who better represent people of color.

Pre-Covid Community Wellness Hours were a very popular event at AOMA and were a wonderful way for individuals of more vulnerable communities to receive free or reduced-cost treatment for topics such as pain or stress. As a longstanding and active Austinite, what have been some of your favorite moments during these engagements with your community?
I very much miss our in person community wellness hours. I participated as often as I was able. There is something so special about group meditation. Energy (Qi) shared is powerful. At the end of each wellness hour we go around the group and everyone shares something they want to share about the experience, if they choose. It is so gratifying to hear how much this time we offer is transforming lives through stress reduction, help with addiction, and providing peaceful time. It is clear for many it is the only outlet they have. How wonderful that we can help in this way.
Holistic Medicine has long been a standing practice in Hispanic Culture, have you noticed any similarities between how holistic medicine is practiced in Hispanic Cultures and Traditional Chinese Medicine during your time at AOMA?
I think there is a deep care for the person being treated that is common among all medicines. With traditional practices as in my culture (Mexican) and with TCM the mind body connections are much stronger. There are also generational aspects, things passed from grandparents to parents to children and so on.

As some may know, you are an avid runner and acupuncture has been known to help elevate some of the pressures that come with running and other forms of exercise. How have you noticed a difference in your running practice since incorporating acupuncture & TCM into your routine?
Yes, I've been a competitive age group runner for about 30 years now. I was actually introduced to acupuncture when I was dealing with a running injury and quickly became a fan. It was so effective in helping me overcome the injury. I've incorporated it in my integrative approach to staying healthy for running over the years. I'm training for a marathon now and getting acupuncture each week up to the marathon in October to help with some hip flexor strain I've been experiencing.

Lastly, when you are not at AOMA how do you like to spend your free time?
I love to spend time with the love of my life, my husband, even if it is just enjoying the back of our property in a hammock. We love to find new places for hiking and enjoying the outdoors. Running of course, but I also swim and bike. I love reading, especially historical fiction and I love being creative through artwork and flower arranging.