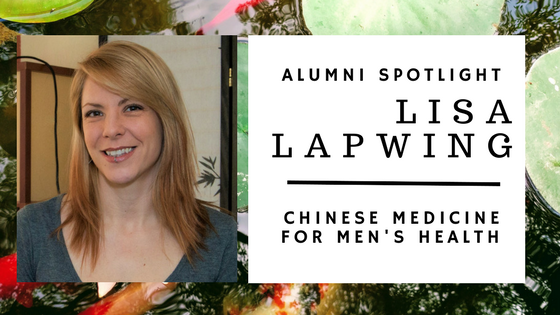 AOMA alumni Lisa Lapwing, MAcOM, LAc, practices in South East Austin, near South Park Meadows at Whole Health Acupuncture. Lisa's practice focuses on men's health, using Reiki and her knowledge as a personal trainer to compliment her acupuncture practice. In this blog post Lisa shares insights into her first introduction to the medicine, what led her to study Chinese medicine, how she approaches her own practice, and her vision for the future of integrative care.
What did you study before coming to AOMA? A number of things beginning with graphic and web design, but ultimately landed on kinesiology and became a personal trainer, which I still consider myself.
What was your first introduction to acupuncture and how did you feel about it? I have scoliosis and degenerative disk disease and was having terrible back pain around 2003. I worked at a health club where a chiropractor suggested that I try acupuncture. I had been a martial artist and a fan of cheesy martial arts movies for some time so I was familiar with what acupuncture was. I found an acupuncturist near Chicago, where I lived at the time and it changed my life! The various things I had done to try to manage my back pain never came close to providing the relief acupuncture did. I also was having menstruation problems around this time, which we attended to as well and acupuncture helped with that 100%.
When did you become interested in studying oriental medicine and why? Around 2005 I was crawling around the floor with a personal training client while my body was screaming at me "why do you keep doing this!?" My knees hurt, my back and neck hurt! Right then I realized, I can't be doing this much longer. I was working 8-10 clients a day and that was destroying my body, on top of doing my own vigorous daily workouts. Doing acupuncture immediately came to mind as it had previously helped me so much – and I had many clients that had similar conditions that I could help only so much with just helping them on the gym room floor. I wanted to do more for them and myself!
What made you choose AOMA as your school and/or shift your career focus to come to AOMA? After spending about a year soul searching regarding my future, looking up numerous acupuncture schools online, I headed to Austin to check out AOMA. I loved Austin and AOMA! At the time, it was still a nice and small town with a lot of charm and it was still affordable. I'd always wanted out of the Chicago winters and the weather here had a large impact on my decision as well. I spent the next year putting my ducks in a row and enrolled in 2007.
What were some of your favorite classes and/or teachers at AOMA? I absolutely loved Foundations of TCM, Energetics and Point Location! Later, I did fall in love with Herbal Treatment of Disease. I don't think it's fair to say I had a "favorite" teacher as everyone who gave me this gift was important and impactful in various ways. I felt I resonated deeply with Dr. Wu, Dr. Shen, Dr. Song and Dr. Cone.
What was your first job after graduating from AOMA? I had already been personal training at UT RecSports and continued to do that as I was opening my practice, Whole Health Acupuncture, and then for about one year after my doors opened. Once I obtained my license (3 months after I graduated) I started seeing patients immediately. In that time, I talked up my coming practice to all of my clients, friends and family. It did help me get a few people in the door right away.
When did you realize you were interested in specializing in men's health? I almost immediately gravitated towards men's health. I had male patients for other issues who, after becoming comfortable with me, would mention, some of their sexual health concerns too. I then noticed that no one I knew was approaching men's health, for whatever health conditions they maybe be experiencing, sexual or not, with the male mind and body specifically in mind. A lot of practitioners work with women's health from menstruation to fertility issues but I couldn't find anyone doing the same for men.
What kind of conditions do you treat within men's health? I treat erectile dysfunction, premature ejaculation, BPH, prostatitis, prostate cancer symptoms, Peyronie's disease, frequent or painful urination, painful genitals, pelvic floor dysfunction, PTSD and psycho-emotional disorders, to name a few.
What is it like treating men's health? It's amazing! It's very involved and there's a lot to learn. It's extremely rewarding! Anytime a patient improves, it's a wonderful thing. Often, men are given a pill or the boot being told "there's nothing else we can do" and this is crushing for them. Especially, since there IS something that can be done for their varying issues. Of course, as with anything else, it comes with its challenges, from patients who are looking for something other than acupuncture to patients who don't see improvement "quick enough."
What is the one thing that you wish other people knew about what you do? That I have been a personal trainer since 2002 and am able to offer patients exercise, stretching, and diet advice and programs, as well as immediate on-the-table care.
If you were to give yourself another job title, what would it be? Other than Acupuncturist, Doctor of Oriental Medicine.
When do you do your best work? I do my best work when I'm busiest with back to back patients. I'm focused with my head in the care game. I have a lot of qi flowing through me that helps me tune into, heal, and understand my patients more deeply.
If you were a TCM organ, which one would you be and why? Heart, I'm fiery, passionate and an open, loving and compassionate person!
What vision would you like to see for the future of healthcare? This is a difficult question to answer. There's a lot of components of our current healthcare system that need to be changed. I do believe in the integration of all medicines. To keep my answer relatively simple, I think everyone should have easy, affordable access to every type of healthcare from Oriental medical care to massage to surgery, dental, and everything else in-between. In my personal and professional lives, I have seen and experienced that not everyone responds to various treatments equally. Some people respond incredibly to acupuncture, some just do not. I'm ok with that! But it doesn't mean I don't think they shouldn't be able to easily find what works for them. I've tried to build my referral network so that I can help my patients find other solutions to their issues, if I'm not it. I can't do that if a referral is required from an insurance company to see a specific practitioner, that bothers me. Hopefully, we can get to the point where medical care, in all of its forms, is a reality for all!
Any best-practice tips for future practitioners? I have so many! Here are a few: Listen deeply to your patients rather than thinking right away "oh this is where I'm going to needle them for that." You'll pick up on a lot more of what's going on with them then they are telling you. Be open but don't drop your boundaries, people are quick to take advantage, even if they don't know it. If you choose to do men's health, you have to be very comfortable talking about men's genitals and sex, in which case, keep things very clinical and straightforward. If you're not comfortable, be honest with them about it and refer them out. Referring out isn't a bad thing. Not every patient is going to mesh with you and that's ok. Remember, everyone makes mistakes; don't take it too hard if you make one as long as you learn from it. Don't spread yourself too thin, you can't care for others if you're not taken care of. Don't forget who you are and how you got here – practice with that gratitude always in mind.
How can we get in touch with you or follow you? Anyone can email or call me with questions, comments, or concerns! All the information is on my website and many other places on the internet, Google, Yelp, etc.
Whole Health Acupuncture: www.whole-healthacupuncture.com,
Contact Lisa:
Lisa Lapwing DOM (FL), LAc (TX)
Master of Acupuncture & Oriental Medicine
Chinese Herbalist
Reiki Practitioner
Personal Trainer
708-707-0383