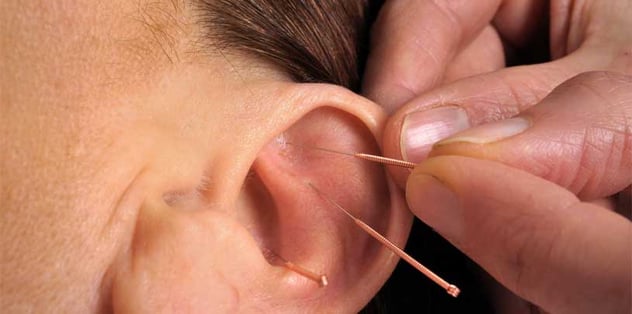 Claudia Voyles, LAc, is the founder and director of Remedy Center for Healing Arts, an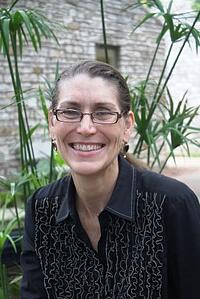 acupuncture and psychotherapy practice in south Austin. In her private practice, Claudia typically will treat about 10 patients per week who are recovering persons, as well as others with mental health diagnoses. "The goal of acupuncture is always to restore balance, flow, and maximum functioning."
Traditional Chinese medicine (TCM) has a unique way of assessing physiology and psychology. One fascinating pattern in the assessment of addiction is called "empty fire," the flaring up symptoms, including emotions and behavior due to the loss of a calm center. Treatment then is designed to nourish the Yin aspect, restore balance, and support the recovery process by making the person stronger from the inside. Treatment is appropriate as support throughout the continuum of care, from pre-treatment or harm reduction through aftercare and recovery maintenance (relapse prevention). "'Addiction' is not a Chinese medical diagnosis. Sometimes we are supporting the withdrawal process, minimizing the symptoms and cravings. Sometimes we are working on the underlying complaints which can be triggers: stress, anxiety, depression, and/or history of trauma and abuse. People in recovery are eager to manage symptoms of chronic illness without medication whenever possible and often have chronic pain or other imbalances that will undermine their recovery and/or quality of life if not addressed."
The NADA protocol – Acudetox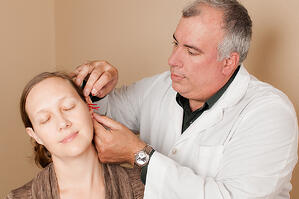 The National Acupuncture Detoxification Association (NADA) promotes the integration of acudetox, a simple ear acupuncture protocol with appropriate modalities of care. NADA is a not-for-profit training and advocacy organization that encourages community wellness through the use of a standardized auricular acupuncture protocol for behavioral health, including addictions, mental health, and disaster and emotional trauma.
Texas allows a limited set of treatment professionals to cross-train in the NADA protocol. This includes acupuncturists, social workers, licensed professional counselors, psychologists, registered and vocational nurses, chemical dependency counselors, medical doctors, and osteopathic doctors. "Acudetox is not a stand-alone treatment, and in my opinion is best provided by a clinician on a treatment team, not by an independent acupuncturist," said Claudia.
AOMA Provides Acupuncture at Austin Recovery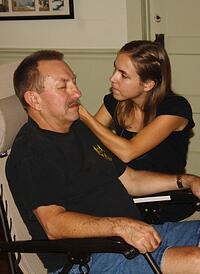 Claudia is also a clinical preceptor at AOMA Graduate School of Integrative Medicine in Austin, Texas. She supervises interns at a specialty clinic in behavioral health at Austin Recovery. Claudia is a NADA-Registered Trainer and co-chair or training for the organization. She also conducts continuing education programs at the acupuncture college and in the community.
In early 2014, AOMA interns began providing auricular acupuncture treatments (NADA protocol) at Austin Recovery's Hicks Family Ranch, a 40-acre, in-patient addiction treatment facility in Buda, Texas. Austin Recovery serves between 800 and 1,000 clients each year, providing individual and group counseling, education about addiction processes, 12-step programs, life skills classes, musical journey experiences, and now acupuncture and Chinese medicine.
AOMA incorporates the NADA training into the Master of Acupuncture and Oriental Medicine program. At Austin Recovery, acupuncture students provide acudetox with the treatment staff for 10-25 clients, and then a full-body acupuncture clinic for eight. "We treat withdrawal--usually post-acute with that population--as well as chronic/acute pain, anxiety, stress, insomnia, digestive issues, libido/sexual function issues, etc.," said Claudia. After a recent acupuncture treatment an Austin Recovery, a patient shared, "I have never breathed so deep before. I didn't realize I wasn't fully breathing." Restoring simple quality of life to recovering persons can be truly transformative.
Natalie Villarreal, a senior acupuncture intern at AOMA, feels very lucky to be able to learn and treat patients at 'the Ranch'. "Austin Recovery provides a unique integrative clinic opportunity. The integrative team encourages a supportive environment, with acupuncturists and social workers working side by side. I love that we can get a better perspective on the experience of our patients through attending classes and meetings that they are going to. This advanced clinic epitomizes the true meaning of integrative medicine."