Give us a brief synapse on your latest book, which we understand is going live on Amazon very soon.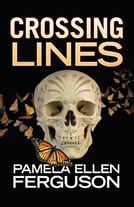 CROSSING LINES is now live on Amazon as an e-book! Later on a paperback will be available. But as the work is set during the week of Halloween/el Dia de los Muertos - I was keen to launch it before the end of October. This is my 11th book published to date. Previous books - including textbooks that are in the AOMA library - were published on both sides of the Atlantic. Living in Austin inspired the storyline of CROSSING LINES including a range of Border politics and what it means to be a Border state. CROSSING LINES is a sad murder story within a family dynamic in Austin and the Border, and involving a land inheritance controversy dating back to Spanish Texas. The story also involves the heartbreaking reality of femicide.
Tell us about your journey with TCM and Asian Bodywork Therapy.
Ah, my first career was as an investigative journalist in the UK and USA and author of books on topics ranging from the Middle East conflict, to political thrillers based in the Olympic Games, to works of fiction based on my investigative reporting on the tobacco and liquor industries. I came upon Asian Medicine quite by chance when I lived next door to an Acupuncture clinic in Japantown San Francisco at the end of the 1970s and my partner gave me the classic book on Zen Shiatsu by Shizuto Masunaga. I realized this was what I had to study as I always had a knack - instinctively - for finding acupoints that released pain while nursing my mother through endless migraines. I trained at the Ohashi Institute in New York City and was asked to become an instructor - and they sent me to teach courses in Canada and Switzerland. That kicked off my 3 decades of helping expand Shiatsu training in Canada, Switzerland, Germany, and Austria - prompting me to write textbooks on Shiatsu, and on the Five Elements. That's how my two careers became one. In 2008 I co-edited, co-authored SAND TO SKY with Debra Duncan Persinger PhD, as the first anthology of interviews with global authors of Asian Medicine in the 21st century. We honored several AOMA instructors in this work - including Stuart Watts, AOMA's founder.
You've had a long relationship with AOMA. Share with us how you first became involved and some of the work you've done with us.
Stuart Watts first recruited me to develop AOBTA compliant training in Asian Bodywork Therapy at AOMA when I joined the fledgling school in 1996. Both Stuart and I spent years on the AOBTA board. It was a joy to create a whole new Zen Shiatsu program styled to fit in with the Acupuncture curriculum and with one semester devoted to the Five Elements. We arranged offsite student clinics at St David's North Austin Medical Center, at retirement centers, the Safe Place, at the School for the Blind, and at a residential addiction rehab center. I'm deeply proud of this community outreach and how it spread AOMA's great reputation and the skills of really talented and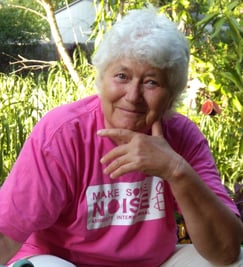 enthusiastic students. I left AOMA about a decade ago as Dean of Asian Bodywork Therapy, but continued to teach one of the Ethics classes until 2019, and CE workshops. I'm so proud to have been a part of the teaching foundation of AOMA, with Drs. Wu, He, Wang, Shen, Fan, Qiu, Mandyam, helping move AOMA from Stuart's dream and a couple of rooms on West Anderson Lane into the wonderful, expansive Westgate campus of AOMA today. I will always be a part of the AOMA spirit. And I relive that spirit as the ABT columnist for Acupuncture Today. Writing this column has also enabled me to weave in some biting issues of the day - like racism, sexism, ageism, homophobia, and body shaming - within Asian Medicine. See my AT columns for November and December 2020.
You are one of the former Presidents of the (former) Vermont based Breast Cancer Action Group, what are some of the things you've done in support of those living with Breast Cancer?
As a survivor of metastatic breast cancer , I transformed the experience into a teaching tool and innovated new ways of working with cancer patients . I developed a range of Qi-inspired postmastectomy exercises I titled DRAWING CIRCLES, and have taught these exercises to Acupuncturists, Shiatsu Therapists, Physical and Occupational Therapists, RNs and MDs working with cancer survivors globally. I have also taught breast cancer survivor groups how to move with Qi to prevent lymphedema and overcome the fear and hesitancy many feel. I've written extensively about these experiences in my books and articles, and also created a DVD titled Drawing Circles.
What hobbies do you enjoy when you're not teaching or writing?
Photography! I created a range of studies of bicycles in every possible context in my global travels and have enjoyed exhibiting them. This actually started as a fun project I could share with my students to encourage cycling, and evolved into an obsession. I cycle daily!! I am also passionate about gardening and created a cacti jungle in my north Austin home. My other hobbies include watching movies and reading an eclectic range of books. I also have fun writing a column titled "Pedaling around with Pam" for our North Austin community newsletter.