I recently sat down with former Dean of Students, and longstanding AOMA faculty member Robert Laguna to talk about how he got started in the world of Acupuncture & TCM, his over two decades of history with AOMA, and the impact community healthcare has to create life-altering change.
MP: How long have you been at AOMA and how did you first become acquainted with the school?

RL: If you put all of my time together at AOMA it's been close to 25 years. I started as a student in '94. I was in the second class of AOMA; they opened in '93. I graduated in 1997, then I went to private practice for about a couple years and then somewhere around late 1998/1999 they asked me to supervise a couple of Student Clinics. When I was in school, I would always help other students, and I also had a background in
teaching. I had been a band director for many years. I had a teaching certificate and stuff like that, so I knew my way around a classroom especially teaching in the arts. I think around '99, they asked me to come around as a classroom teacher. Around that time the owner of the school, Stuart Watts was trying to limit the amount of administrative stuff he was doing, and he was actually bringing in administrators little by little, and he asked me to do some of the admin things he was doing, specifically with transfer students. Around 1999, he established a deanship, and I became the Dean of Student. I stayed in that position until about a year ago. I don't remember exactly when I did not become the dean of students [laugh].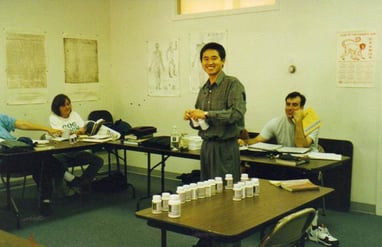 MP: That's a very interesting start to becoming an acupuncturist. What made you want to shift from being a band director to entering into the field of Acupuncture and Traditional Chinese Medicine?

RL: In my dad's recovery from alcoholism, he became a licensed chemical dependency counselor (LCDC); this was in the late 70/80s. He established a small, outpatient detox clinic in San Antonio. I would help them, and I was basically working as a consultant for class instruction. I would help them with different stuff, with the paperwork, teaching classes, curriculum design, helping to recertify the counselors, etc. during the summer when I was off [from teaching]. Band Directors don't get the full summer off, just a month and a half but during those time I would help them and then any time during the year when I could help.
Around '93 or '94 there was a big debacle in Texas because back then the institution that oversaw detox clinics was called TCADA (Texas Commission on Alcohol and Drug Abuse), and the person in charge had embezzled a ton of money in the organization and then they dissolved it because it caused a lot of hoopla, and in the process, many detox beds (in-patient facilities) went away. As a result, so we saw a lot more people in more emergency situations because [of the fact that] people were canceling these services.
Around that time an acupuncturist had moved into the same building we were in and he said that if we ever needed an acupuncturist he could help with detox. And we were really skeptical, rudely skeptical even. But later on, we had this client who was detoxing off of heroin. Heroin is painful to detox from by the way; it's not as critical as alcohol—an alcohol detox could kill you—but it is still really painful and uncomfortable. The hospitals had turned him down, and we just needed some help, so we called the acupuncturist. It did take him [the patient] sometime to feel comfortable with the needles—which is common—but they eventually convinced him to try one needle and as soon as the first needle went in, he stopped shaking. We continued working with him pretty frequently for a week, week and a half and the changes we saw initially showed that the help he was getting opened him up more to the other counseling he was getting. It was almost like an emersion. As soon as I saw that I though "I gotta do this, I gotta do this."

At that same time [as the detoxing clinics closed] in '93 the acupuncture law came to be in Texas, which is why the school arrived, as soon as the legislation was here the schools came. The law stated that no one in TX was allowed to practice acupuncture anymore without being licensed, which meant that all of the inpatient and outpatient facilities in Texas that were using acupuncture as a complement to regular treatment couldn't do [so anymore]. [That action] really disenfranchised a lot of people, and it wasn't your more urban people it was more so people in more rural areas like Temple or Plano at the time. So, my dad and two other people brought up a lawsuit to sue the state saying this wasn't right, and one of the judges here in Austin, Judge Wisser, decided to issue an injunction stating that there would be an exception for people who were currently practicing in detox settings while the law was being revised. Later an addition was made to the law for acupuncture detox specialists. I say that because [it gives context with] what was happening in the background. That process [to become an] acupuncture detox specialists took about 5 years to be fully certified, and that left me hanging because I wanted to go down that route. I was already using NADA, and I was trained in that, and I was still helping too even though I wasn't a counselor or acupuncturist; I was just there helping in the trenches. But they weren't going to let me do this anymore, so I realized I needed to learn the practice. One of the other people who helped [us] with the lawsuit she recommended AOMA to me and she'd said it was in Austin (at the time there was two acupuncture schools in Austin) but she told me I had to learn herbs too in the process, and at the time I was kicking and screaming at the thought of it. I just wanted to do acupuncture. It was just people being made to change and you just didn't want to do; it was very much like that.

Short story long, I went through the curriculum at AOMA, went through herbs learned to love herbs, graduated in 97 and then went to work right away at an integrative office. So, at the same time I was trying to establish my private practice on the side I had the chance to work with an osteopath at their clinic. With two osteopaths, two chiropractors, two nurse practitioners which was very rare at the times; it's rare now but at the time it was more so, and I was really happy to [be a part of] that. That has been a large part of my approach since day one—an integrative approach.

MP: I personally didn't know that acupuncture had so much to do with addiction recovery, and all the applications it had in different practices.

RL: Well, it's a subset of Chinese Medicine which is what you learn at the school. You learn Chinese Medicine, which is medicine. It's like asking someone what biomedicine is for: Does it help with headaches? Of course. Does it help with menstrual problems? Yes, that's what medicine does.
I will say that the way Chinese Medicine is practiced in the US, the one thing we cannot do well is trauma. If you get in a bad wreck the ambulance doesn't take you to an acupuncturist's office, [you should] go to an ER. Not only that, but we also fill a gap that biomedicine tends to leave open which are chronic disorders. They do what they do well and so do we. We tend to treat chronic problems well and they treat acute problems well; that doesn't mean Chinese Medicine can't treat acute problems and vice versa. But those are our wheelhouses so to speak.

MP: I feel like chronic pain isn't taken as seriously in biomedicine, whereas acute pain is taken a bit more seriously, in the fact that they are good at treating headaches, but they don't ask WHY you have the headache.

RL: or how to prevent the headache from becoming a more serious issue.
"It really teaches you that you don't practice medicine in a vacuum."


MP: There have been so many people who have been here at AOMA for as long as you have, and more so, can you speak on a few of your favorite experiences you've had here at AOMA, and with the faculty?

RL: For me, over the years the two ongoing experiences that I have found really very enlightening are our presence at the Kerrville Folk Festival, which we started going to in 98, treating volunteers. It was a beautiful community filled with beautiful people, a very tightknit community. It was a community filled with hippies so to speak, and because they were hippies, they had this basic distrust of "The Man." This goes back to the 60's where there was a complete rebellion of what the system was doing, so a lot of them had never really been seen by doctors; they would get seen by their own. Acupuncture and specifically NADA acupuncture was really impactful to the hippies, not just in New York but [the communities] in California and especially New Mexico were really instrumental in creating an amalgam of medicine and they needed to rely on their own [so it made sense]. In fact, a lot of the authors of acupuncture texts in the United States were actually hippies because they had to rely on their own; some had to learn Chinese so they could read the texts and then teach the other people around them, etc. It's a very interesting topic. So, our presence at that Folk Festival was a great time, not to mention the music. The little clinic we had out there, an outdoor clinic, was filled with really great memories and it was a wonderful highlight for me.
Another one was my relationship with the Seton network. They had three community clinics, and we participated in all three of them; although they are down to only one now—McCarthy—but our ability to establish clinics at these facilities has been a really impactful experience for all of us, and students agree that it has been really outstanding for them too. One, you get to see a different group of people who are also underserved, that was the purpose of the community clinic it was a way to help people who didn't have access to these services. But also, for us to have the provider's right there, and a lot of the time they were treating patients right in front of you. It created a lot of communication between the providers and us, and a lot of the discussion 60% of the time or so was about how to get the patient to a better space, social economically and otherwise, not just medically. It really teaches you that you don't practice medicine in a vacuum. The person who has these health challenges is not coming into this practice ONLY for these health practice. These issues happen not just because of their health but because of everything that is happening around them, and you are trying to help them get to the next place [level]. There were a lot of people who didn't speak English, and you deal with a lot of different cultures; it just beautiful. It really gives students another window into what community healthcare is really all about.
You [have a chance to be] a part of a broader product. We're all consumers and when you step back and you kind of look at it, we all have to eat, need shelter, we all have basic needs, and your provider should recognize all of you [and your needs] and so should your medicine.

MP: Over the years, what changes have you seen in more Western, Biomedical practices and their perceptions of Integrative medicine?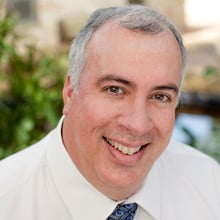 RL: When I started my patients would tell their primary care physicians, they were doing acupuncture and they would get yelled at. And just in a period of 20 years that been changed completely, and many providers—not all—are very on board with the practice. Not all insurance companies are open to it, but now that Medicare has made it a part of their program the other insurance practices will follow.
I have seen a lot of change in the past 20 years. For someone who is in school, 20 years is a long time. But in relation to the age of the medicine we are practicing, 20 years is nothing. It's come a really long way and the other important thing that I see, and that I always thought it was somewhat harmful to us as a culture in the United States, is to think of acupuncture and Traditional Chinese Medicine as so different than Biomed; that it is an either or [situation]. There was always this tension about each party thinking about the other party as evil and the only good medicine is the one you practice, and that kind of thinking has always been harmful. "What positive changes could you create in this patient's condition?"—the goal is always that. "What can the patient take from that interaction?"
What I've seen is a kind of reluctant acceptance between the two but there has begun to be a foot-in-the-door that most practitioners are ready to have a conversation and that was not happening in the past. You still see a bit of that in classrooms, where students think that MDs and Biomed are bad and Chinese medicine is good, but you can't look at it like that. I work with providers, regular MDs, etc., and they are just as dedicated to their patients as we are. There are these concepts that we bring into it; just out of ignorance like anything else when you are learning about a different culture. Just because we/they are different doesn't make us/them good or evil.
"This institution has created a venue for me to grow as a student of the medicine and to practice my craft as a teacher and provider. I'm not punching a clock; I believe that I'm engaged in something that is constructive and meaningful and when you find something like that it's not tedious work."

MP: To close us off, do you have any other aspects of integrative medicine, of AOMA and your time here that you'd like to share?

RL: I've always thought of AOMA as a family and that sounds kind of cliche-ish. Sometimes I wonder if that feeling is mutual – but that's usually my insecure self-talk. This institution has created a venue for me to grow as a student of the medicine and to practice my craft as a teacher and provider. I'm not punching a clock; I believe that I'm engaged in something that is constructive and meaningful and when you find something like that it's not tedious work. It's a job because it's an exchange of energy that you get paid for that's true, but it's not the feeling that "ughh I have to go to work". I have never thought that because that's not true in this case. I don't bemoan that I work. It's similar to the feeling I have teaching music, but I have never been one to engage in something like that [meaningless]. Most acupuncturists I know don't think of it like that, as a chore to go to work, to have to see a patient (or a student for that matter). If I ever feel that way in my profession, then I know it's time for me to stop. I want to see them—I don't have to see them. I feel that what I do is meaningful and AOMA has played an integral role in this for me.