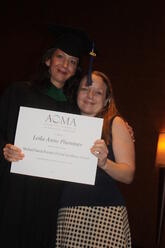 At the 2013 commencement ceremony on September 15th, AOMA student Leila Plummer was recipient of the Michael Garcia Prendes Herbal Excellence Award. Since 2006 this honor has been bestowed upon a student who excels in the study of herbal medicine. The recipient is chosen by the previous year's beneficiary, as someone who strives for superior herbal knowledge and shares the love of learning herbs with fellow students.
In 2012, the award went to Vivian Linden, who chose Leila as this year's recipient. Vivian shares, "I believe that our most rewarding relationship with herbal medicine will be achieved through fostering a mutually beneficial relationship with our herbal allies –making them friends instead of just servants. Leila exemplifies this and it is what makes her truly excellent!"
It is clear to her fellow classmates that Leila holds a great respect for the study of herbal medicine as an academic, clinical, and extracurricular pursuit. But what is most notable about Leila is her reverence for the plants themselves.
Leila's extracurricular herbal studies have included: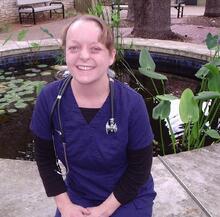 Serving and training in Nicaragua in 2012 with master herbalists providing free natural medicine to the underserved

Certified Community Herbalist and Herbal Apprentice from the Wildflower School of Botanical Medicine (Western herbalism)

Member of the American Herbalist Guild (student member) and United Plant Savers

Working as a wellness consultant, helping people with herbs and nutrition at herb stores and health food stores
"I am humbled and grateful to the AOMA community for thinking of me for this award. AOMA has a strong herbal program, which is why I chose this school; it is an honor to get to learn from such knowledgeable and caring faculty. The kindness of the student body has also always impressed me -- here, learners look after each other and help each other out," said Leila.
Michael Garcia Prendes (1964-2007)
The award is named in honor of Michael Garcia Prendes (1964-2007). Michael graduated from the University of Kentucky Phi Beta Kappa with distinction from the Honor's Program with degrees in Political Science and Sociology.

In 1990, Michael moved to Austin, Texas where he eventually continued his education at AOMA. He was a loved and cherished classmate, tutor, mentor and friend. While at AOMA, Michael was instrumental in the development of the Herbal Outreach Program. Because of Michael's generosity, many patients have been able to receive necessary herbs.

One of Michael's greatest passions and loves was tennis. Michael founded the Austin Tennis Club, a local tennis organization that has grown to over 100 members and has raised thousands of dollars for local charities. Michael loved being on the tennis court as a player, teacher and coach, and he used his talents and eye for the game to teach many tennis camps.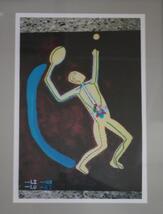 Michael Garcia Prendes contracted a terminal illness and died before he could graduate. AOMA framed a beautiful print that Michael painted of a tennis player (with acupuncture meridians) about to serve a ball. Michael painted the piece for Pam Ferguson's shiatsu class. The print hangs in the student lounge with the sentiment that suits Michael's character: "Be present and focus, Lift up and Serve."

Michael's generosity, compassion, sincerity, selflessness, and kind heart will always be an inspiration to his family and friends. Michael lived his life with integrity, honesty, and courage. Michael was a true gift to all who were lucky to know him and who were blessed by his humor, love and kindness.
How Michael helped students learn Chinese herbs
One of many students who benefited from Michael's herbal tutoring was Consuelo Gonzalez, class of 2009.

"Michael had very special teaching qualities. He would explain with patience and humor the terminology of the herbs. Michael made it easy for us to identify the herbs. He would use pneumonic words to relate the herbs with funny stories or events to get them connected all at one category. We always had a blast each time we get together with him. It is hard to find someone like him, but before he left he gave us the guidelines to imitate him."
Classmates remember Michael
Michael has touched me deeply and will always be a part of who I am no matter if I'm playing tennis or treating a patient. I feel so lucky to have been on the receiving end of so much love and generosity which he shared with everyone, and for which he will always be remembered. - Adrienne Kam, class of 2009


I have never met a more selfless, loving, giving man than Michael Garcia Prendes. His concern for his fellow students overrode everything else, and up to his last days, he put others welfare before his own. - Kathy Kerr, class of 2008


Michael helped so many people, including myself, to see the true potential in themselves and build confidence in their learning capabilities. - Sarah Wilson, class of 2008

I knew Michael to be a compassionate and wise soul. He was always kind and offered me valuable comfort when I was going through a sad time. His donations and support of Herbal Outreach were unsolicited and showed him to be thoughtful and generous with his time and efforts. I am grateful to have known him. - Jessica Fritz, class of 2005


Previous Recipients of the Herbal Excellence Award
Erin Taliaferro, 2006
Rebecca Benson, 2007
Marc Smith, 2008
Alison Beard, 2009
Cat Calhoun, 2010
Joshua Shain, 2011
Vivian Linden, 2012