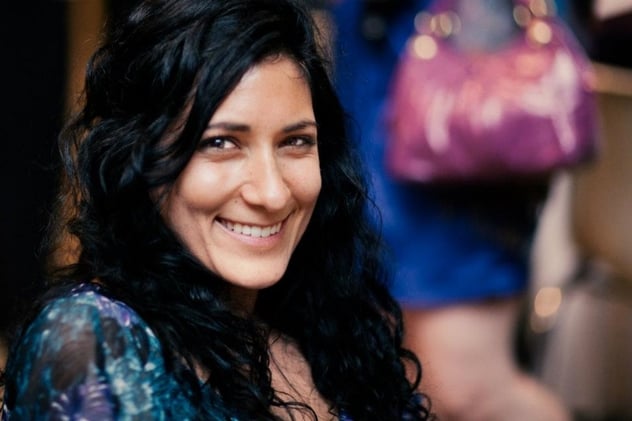 On Thursday, October 15, AOMA Alumni Ashley Oved presented "Acupuncture in the Integrative Hospital", a Brown Bag Lecture about her experience in the increasingly common practice of acupuncture in an integrative hospital.
We caught up with Ashley to ask her a few questions about her life at the Cancer Treatment Centers of America and how she felt her education at AOMA helped prepare her for the challenges she faces each day.
What does a typical work day look like for you at the hospital?
There are two acupuncturists at this location and we each treat between 9-14 patients a day. It's a fast paced environment but quite manageable. We treat most of our patients in the Outpatient Clinic but we also treat patients in the Intensive Care Unit or will visit them when they are receiving chemotherapy in the Infusion Center. Just recently, we've started Group Acupuncture twice a week which has been a huge success. Our patients really love acupuncture, so there is rarely a dull moment around here.
Do you feel like your training at AOMA adequately prepared you for work in an integrated environment?
I really do! Working at Seton Topfer and Austin Recovery gave me a ton of experience. Austin Recovery intimidated me so much the first couple of weeks (shout out to Claudia Voyles for being my pillar of strength) but it was probably the best clinic I ever had at AOMA. It exposed me to a different patient population and prepared me for leading Group Acupuncture here at CTCA. The information I learned in the Physical Assessment classes has also come in handy. The first time I saw "No Babinski, Negative Romberg" on a patient's chart I thought, "I know what that means!
Any advice for current students or alum who are interested in working in an environment like CTCA?
It's a good idea to focus in on a specialty. Whether it's pediatrics, oncology, or fertility it really is up to you. Get some books on what interests you, or take some online CEU's. Having that leg up gives you an advantage when applying to jobs. But truly my best advice is to just go out and apply. The clinical experience you gain in the student clinic has prepared you more than you know. You don't have to be the greatest acupuncturist that has ever lived. You just have to be confident in yourself and your abilities. If you continue to learn new techniques and keep up to date on the latest studies, you will be well on your way. There are many hospitals that already incorporate acupuncture into their model of care, and many more on the verge of it. So don't get discouraged! There are definitely jobs out there.
To learn more about the Student & Career Services' Brown Bag Lecture Series check out our website.