Please provide a little information on your education and experience prior to AOMA.
Before I ever dreamed that I would receive acupuncture (I had a serious needle phobia), let alone become an acupuncturist, I received a Bachelor of Fine Arts degree in modern dance and education. A little-known fact is that I danced professionally in NYC for seven years before moving to Austin to attend AOMA graduate school of Integrative Medicine.
Tell us about your journey to AOMA—what led you to Acupuncture and Traditional
Chinese Medicine?
While in New York I worked as a certified Alexander Technique teacher (an ergonomic physiology method often used by artists and athletes). At this time, some concern arose that teachers of this postural alignment method would have to obtain a massage license to continue practicing. So I proactively enrolled at the Swedish Institute, a renowned massage school. As it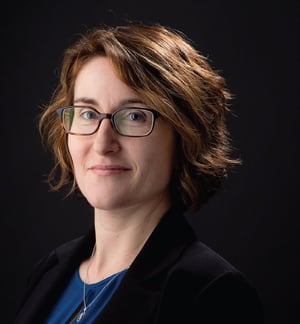 turned out, half of the program was devoted to learning Shiatsu (acupressure) which uses the same meridian system as acupuncture. I had already been studying Eastern philosophy and fell completely in love with this profound approach to health. It was also at this time that I injured my back during a performance and on the advice of a friend, found myself in Chinatown getting acupuncture. Needless to say, my back pain resolved, and I had discovered what would become a lifelong passion.
Your work in women's health and fertility is outstanding. What led you to specializing in this area of medicine?
When I graduated from AOMA, I worked as a generalist in an HIV clinic, and several integrative medical practices, before focusing on Women's health and fertility exclusively. My mother, who was an OB/GYN NP, had a big influence on my interest in specializing, as did my desire to be a parent. I'm the oldest of six children in my family and always knew that I wanted to be a mother. I learned everything there was to know about Eastern reproductive medicine and Western fertility treatments (which have changed dramatically over the past 15+ years). After going through our own struggles, my spouse and I did end up having our son and I was inspired to create a space where people could find information, care, and support during their fertility journey. It gives me immense joy to celebrate the innumerable successes with our patients, as well as solace knowing that at Sage we provide a haven for those going through this unique challenge.
What would you like everyone to know about you—your interests, passions, hobbies, etc.?
My passions are simply my family, my work, and my community. I am incredibly appreciative of the support I've received in my life, and it is my hope that I can pay it forward by planting the seeds of health and happiness in others as they build their families.