Why a poor diet may be contributing to a rise in age-related cognitive problems
We often use the way our body looks as the barometer for health, but what if it was your brain that was suffering the consequences of our sugar addiction? New research suggests that Alzheimer's disease is intrinsically linked to insulin resistance of the brain and may be, in the most simplified terms, diabetes of the brain or Type 3 diabetes.
Millions of Americans with insulin resistance problems like Type 2 diabetes are being ravaged by health concerns, including heart disease, which is still the number-one cause of death in the United States, as well as a host of other maladies like eye problems, kidney disease, and neuropathy, to name a few.
Most of us are familiar to some degree with diabetes, but at times it can be confusing. Type 1 diabetes is caused by the body's inability to produce insulin and is something one is born with. Type 2 diabetes is acquired and used to be labeled "adult onset" until we saw the spike in childhood cases in recent years. Type 2 diabetes is caused by a breakdown of the body's insulin receptors and is typically associated with over-consumption of processed carbohydrates and sugar. So what's Type 3 diabetes? It appears to be an insulin resistance of the brain, causing memory problems and personality changes; in essence, Alzheimer's.
Alzheimer's disease, discovered more than a century ago, is characterized by amyloid plaques building up in the brain, contributing to cognitive problems such as memory loss and personality changes. For as much as is known, it's still a largely mysterious disease.
In 2005, a neuropathologist from Brown University, Suzanne de la Monte, published her research proposing that for those with Alzheimer's the brain has become insulin resistant and essentially the brain cells are starving to death. This appears to be especially true in the parts of the brain that have to do with memory and personality.
So what does this mean in Traditional Chinese Medicine? A few of AOMA's most knowledgeable teachers and supervisors weighed in on the issue.
Dr. "Nelson" Song Luo explained some aspects to consider:
"In TCM, insulin resistance is related to stagnation of the Liver qi that begins to over-control the Spleen. Because of this, the Spleen either cannot generate blood, causing poor memory, or phlegm will accumulate which disturbs the memory. We call this phlegm 'misting the mind.' Memory issues are the primary early manifestation in Alzheimer's disease."
When exploring this further, AOMA's Dr. Yongxin Fan brought up that in TCM, the brain is called the Sea of Marrow and is controlled by the energetics of the Kidney. If there is chronic Spleen and Kidney qi deficiency, which is what we will often see in Type 2 diabetes, it stands to reason that the Sea of Marrow, the brain, would be impacted by this.
Dr. Qianzhi "Jamie" Wu added that Type 3 diabetes likely involves the energetics of the Heart, Kidney, and Spleen, and is a complex condition involving both excesses and deficiencies in the body.
"We know that memory is supported by blood and essence. Poor memory could be a result of Heart blood and Kidney essence deficiency. To be more specific, the short-term memory is supported by Heart blood, while the remote memory by Kidney essence."
Wu also suggests that the excess would be seen from phlegm misting the mind, leading to symptoms of forgetfulness and personality change. All of this leads back to the Spleen "as the source of blood, source of phlegm, and the postnatal root of essence."
Wu notes that some TCM experts believe that what we call the Spleen in Chinese medicine is very similar to the pancreas in biomedicine. "Therefore, the TCM treatment should also focus on these three organs, but the Spleen could be the most important one among these three."
Additionally, sugar in all its forms—white starches to straight off the cane—can cause dampness and damp retention in the body. Dampness is a result of poor diet and digestion when the energetics of the Spleen is not functioning properly. It's that heavy feeling you may know so well. Slow to get moving until you mainline a pot of coffee. It can affect the body and the thought process, so theoretically the dampness could accumulate in the brain in a more permanent way with years of neglect. Dampness transforming into invisible phlegm which causes those cognitive changes.
There are myriad reasons to moderate our consumption of processed foods, and this is just another in a long list. For now, listen to your body and talk with your healthcare team, including your acupuncturist, if you have concerns about poor memory, lack of mental clarity, and insulin resistance.
About the author: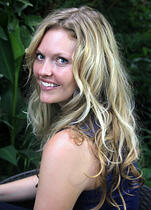 Lauren St. Pierre-Mehrens, MAcOM, L.Ac
A recent graduate of AOMA Graduate School of Integrative Medicine, Lauren is in the process of setting up her practice, earthspring | acupuncture.

Lauren has begun working with the Texas Center for Reproductive Acupuncture to support their staff, and she continues to work with The American Cancer Society as a cancer information specialist.

She has lived in Austin since 2006 by way of Lake Tahoe, California, and counts Austin as her home with her husband and two Boston terriers.