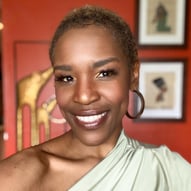 Joyce Carol Oates said, "The great enemy of writing is interruption." I have lived this truth for the past eight years trying to complete consecutive degrees while raising a large family. It has not been more apparent than in these past four months trying to complete my portfolio, and the past two weeks is a perfect example. I thought my reflection would be the easiest task of all the portfolio items to complete, however constant and frequent interruptions have disrupted my thinking to the point that some days I could not write more than one or two sentences in one sitting. I hope that in sharing my thoughts, I am able to convey the joy, enlightenment, frustrations, limits, and love that was all equally part of my overall experience in this program.
Completing the DAOM program at AOMA Graduate school of Integrative Medicine (AOMA) has completely changed my life. This program is designed to develop strong leaders who apply critical thinking skills and who are dedicated lifelong learners and contributors to education and research in the field of Traditional Chinese Medicine. Upon reflection, my experience at AOMA was not at all what I anticipated. My journey began as a quest for mentorship and support as a new Traditional Chinese Medicine (TCM) practitioner. I had just completed the Masters of Science in TCM (MSTCM) degree program at Colorado School of Traditional Chinese Medicine in Denver and did not feel prepared to be on my own yet. It was my hope that I would polish my skills, get additional training in mental/emotional support through TCM, and have greater access to seasoned professionals who could guide me in my practice. What I actually gained from my participation in the program was a level of confidence that grew me from a timid practitioner to a polished public speaker affecting change in my community through education and leadership in health.
I had no idea who/what I wanted to be in my life until I was 35 years old. As a child I wanted to be a teacher. My mother would purchase sample textbooks and curriculum guides and give me the ones she didn't like. I would use the teacher's manual and workbooks to play "school" with my younger siblings and cousins. As I got older, I became enamored with the arts. I loved stage acting and thought I would love to become a professional actress. Then I found Traditional Chinese Medicine, and realized it was everything I wanted in my life but never knew existed. I wanted to be a healer practicing acupuncture medicine. My decision to continue on to the DAOM program was spontaneous. I had been counting down the days until I completed the three year, accelerated, MSTCM program and was looking forward to being done with school forever! I was sitting in business class, and a question came up about "finding your niche". I began wondering what I could offer that would be different from the hundreds of acupuncturists serving the Denver Metro area. I knew that I wanted to share what I had learned with the community that raised me. But what would I offer that might attract and inspire them? I needed more time, more information, more support, and more school. I decided in that class, at the end of November, that I would apply to a Doctoral program that would begin in the summer. Seven months later, during the first residency week of the 3rd cohort to enter the DAOM program at AOMA, I found my tribe. I heard voices that echoed mine, I heard ideas I thought only I had considered, I felt validated and welcomed. From that first week and through the next 13 I slowly realized that I had demonstrated who I was since childhood, but I could not see it. I am someone who cares about others, I am helpful, I listen, and I try to solve or resolve problems that are presented. I am someone who loves to learn and who is not afraid to take the road less traveled. I like to share what I have, especially information or knowledge. I must have a purpose and I must make a meaningful contribution into my community in order to feel fulfilled.
I had a lot of reluctance around having the term "leader" used to describe me before starting the DAOM program. I was lectured from a very early age on the importance of leading by example. I was placed in leadership roles despite my objections. My naturally inquisitive nature and willingness to try things others shied away from, put me in positions that made me "first" and by default a leader, but I was often oblivious to these instances as they occurred. I now recognize and accept both role and title, as well as the responsibility that comes with it. My community sees me as a resource not only in health but in public education. Last year I was asked to serve as Community School Coordinator for Denver's first community school model. I was chosen because of my ability to organize people, curate resources, develop community, support families, and motivate others. I was invited to speak to university classes and high school classes as a motivational speaker. I have been asked to submit articles on holistic health and speak at health forums. Recently with the COVID-19 crisis, there have been many panels and events held to offer support to people around self-care and emotional support. My community has reached out to me on multiple occasions to share in these areas. I've spoken on two radio shows and done two other panels. I credit the leadership development training I received at AOMA for nourishing whatever seed that was present within me upon my arrival, and allowing me the space to blossom into a better version of myself.
Going through the DAOM program at AOMA does not only impact the scholar, but transforms their lives in such a way that anyone the scholar builds community with will also be impacted. John F. Kennedy said: "Let us think of education as the means of developing our greatest abilities, because in each of us there is a private hope and dream which, fulfilled, can be translated into benefit for everyone…" The benefit to everyone is a shift in perspective. This shift broadens problem solving approaches, bridges gaps between communities, and inspires new ideas and goals. Those are some of my greatest takeaways from the program. AOMA offers not only technical or clinical training in TCM, but they help grow leaders in the field of Integrative Health. Now that I've completed the DAOM program, I feel prepared to lead my practice, my patients, and my community. I embrace leadership and I accept the responsibility that comes along with it. I am committed to growing and learning more, and I will invite my family and friends to grow alongside me. I am grateful for this experience. Thank you AOMA.