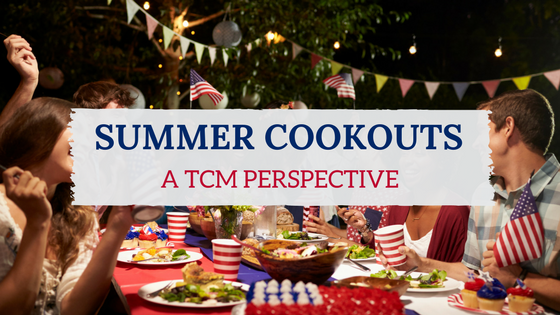 It's that time of year when family and friends come together to celebrate with a good, old fashioned cookout. The problem is these emotionally nurturing gatherings can often leave one feeling overheated, bloated, and requiring an extra day of recovery. From a Chinese medicine perspective, many of the foods we eat, coupled with alcohol and the Texas heat, can lead to a toxic buildup of internal heat and dampness which makes us feel heavy, lethargic and vulnerable to getting sick. Luckily, there are simple modifications to classics you can use to naturally balance your menu and your belly.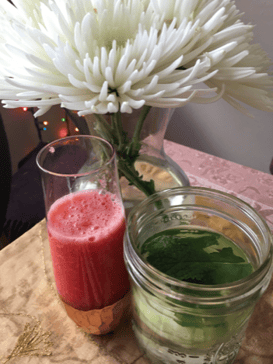 Full disclaimer: I am a Licensed Acupuncturist and I love having friends and family over. I am not a chef and I am not saying you can't occasionally indulge in your traditional dietary staples. Sometimes, we let loose by splurging, and if we're going to do so, the last thing we need to add to the aftermath is guilt. However, I've found that over the years, I don't bounce back from poor lifestyle choices as easily as I used to, and with a little planning, celebration doesn't have to mean indigestion and pain. So I'm going to invite you into my kitchen and share a few tips and recipes my family and I will be indulging in this year. I will not be writing out exact recipes for the most part because that is not how I cook. I want cooking to be an organic and playful practice that I can do every day with ample wiggle room to experiment.
Hydration
If you are planning to drink soda or alcohol throughout your celebration, it's good practice to drink enough water to balance out the sugars and toxins. For example, if you drink a glass of water (preferably without ice) for every alcoholic beverage, you're going to help keep your body hydrated which will lessen that dreaded hangover the next day. If you don't like plain filtered water, you can prepare a pitcher of cucumber-mint water. It's so easy and your guests will appreciate it. Simply grab a bunch of mint, chop up cucumbers (I peel mine first but you don't have to) and pop them in a pitcher of water. I do this the night before and keep it in the fridge so the water has enough time to soak up the flavor. Cucumbers and mint have a naturally cooling effect on the body and the taste is refreshing but not overpowering.
Mocktails & Cocktails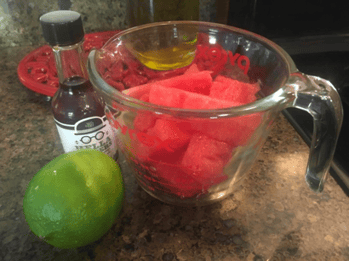 We don't drink sodas in our household so I offer a flavorful alternative for my alcohol-free friends. An old favorite for summer is a watermelon and bitters mocktail. Blend 3 cups of chilled, seedless watermelon chunks with 4 dashes of bitters and the juice from 2 squeezed limes. This will yield 2 servings of a refreshingly balanced and frothy drink. If you want to make this into a cocktail, it pairs well with rum, vodka or gin. You can also run the mixture through a strainer to top off a sparkling brut or Topo Chico.
Burgers
I grew up overseas and I remember learning at a young age that burgers were tied into this idea of being "American." In fact, my school dedicated one day annually to celebrate the diverse backgrounds of our student body, culminating in a food fair where parents would set up tables and serve dishes from their represented country. The United States table always had watermelon and someone at the grill cooking burgers and hotdogs. I know the origin of the burger is more complex - stemming from Germany for a start - but I admit I still associate it with this country and it is rarely left off our summer cookout menu.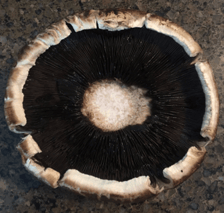 This year, we will be having 2 types of burgers: Portobello and chicken. My husband Brian and I try to cater to our guests and their dietary allergies and one of the easiest ways to do that is to keep processed foods to a minimum and utilize a ton of whole foods. If I use something that came from the store packaged in a container, I want there to be roughly fewer than 5 ingredients and I want my guests and I to understand exactly what every ingredient is. For example, the ingredients in most organic bottled mustards are going to be distilled white vinegar, water, mustard seed and some other spices (really easy to make at home, by the way) so I feel comfortable serving that to my loved ones. If it has preservatives or long chemical names that my guests can't pronounce, I don't want to risk putting their immune system through the hassle. My personal goal is to have a healthy ratio between foods that are going to make my guests feel great and foods that might cause them discomfort. The lesser the latter, the better!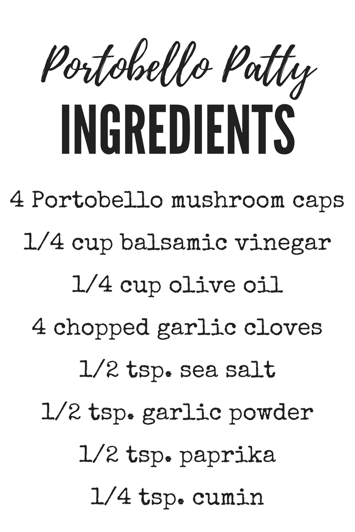 Marinate the Portobello burger for a couple of hours in a Ziploc bag with balsamic vinegar and spices of choice – I included my favorites here. If you want to skip this step or you forget to, it's not necessary but I like how soft and succulent the "patty" becomes. Brush the top of the cap in your marinade and start grilling smooth side down, flipping them as needed and averaging 5 minutes on each side. You can use this in place of a meat patty and unlike many vegetarian burger patties you'll know exactly what's in it.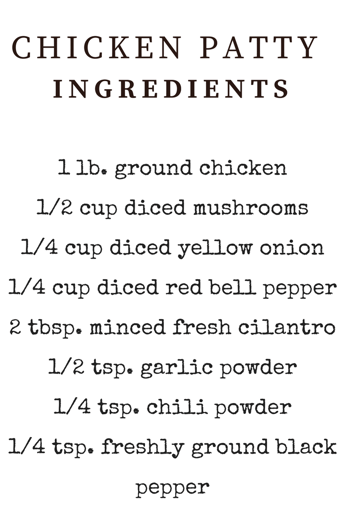 In place of a heavy red meat this year, we are choosing local ground chicken. We buy ours from the farmer's market and 1 pound yields 4 patties. Farmer's markets are great because you can find out where your food comes from and how the animals are treated. You are also supporting your local community. The spleen and stomach are responsible for digestion in Chinese medicine and they are connected to the Earth element. The less time (and tampering) food spends between the Earth and our mouths, the stronger the connection and the more nourishing. If my "food" spends a long time in a cold factory, it's not going to have the same type of nutritional or energetic value as something cultivated in Austin by friendly Austinites.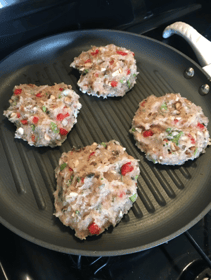 This burger is easy to make. Simply mix the ingredients together, form 4 patties and place on a medium-high heat grill. For photography purposes, I tried cooking these on a grill pan and they came out just as well as the outside grill. You want to make sure they cook all the way through, about 4-5 minutes. If you are concerned or don't have a meat thermometer, you can always finish them off in the oven.
I don't tend to use buns. This is more to avoid processed flours and chemicals that are used to make commercial bread than gluten specifically. In fact, many gluten free breads are filled with so many other products and binders to achieve the look and feel of wheat based bread that you end up with an equally unhealthy food. Again, I want my body to recognize what I'm putting in it so it's not overwhelmed. To do this, I play with ways to wrap my food using what grows in nature. My favorite is the reliable lettuce wrap. Yes it is messy but what burger isn't?! It's also ridiculously delicious.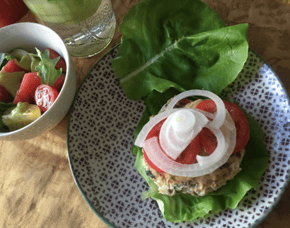 Now, you might notice a lot of bright colors from the fruits and veggies in these photos. While this is great, you do want to be mindful and not overload your system with too many raw foods as these can tax the digestive system and lead to loose stool if done all the time. It's all about balance. For example, I don't consume salads and smoothies daily, especially in the winter months, but they can hit the spot at a hot cookout. My favorite is a combo of baby arugula, chopped tomatoes, watermelon, and strawberries. I blend ripe avocado, olive oil, apple cider vinegar, sea salt, and freshly ground pepper to make a dressing. I usually use half an avocado and play with the proportions of the other ingredients, tasting until I get a consistency and flavor that I like. My husband likes to use the dressing on his burger while I like using mustard or a homemade pesto (blended basil leaves, olive oil, pine nuts and some salt and pepper.) We will probably also make some baked sweet potato fries on the day of, and you can find many delicious recipes online.
Balance ☯
Everyone's individual relationship with food is sacred and it should shift with the seasons. Awareness about what you're eating and how it makes you feel in your environment is a practice I continue to cultivate every day and one I encourage in my patients. Contrarily, we shouldn't obsess over what we eat or psychologically punish ourselves when we make the occasional toxic choice. I use every splurge as a learning opportunity to gain clarity about how my body and mind are doing and how they adapt. Own the decisions you make, soak up the company of your loved ones on a hot summer day, be curious about your relationship with food and enjoy cooking with ingredients you have a connection with and make you feel good. Above all, be kind to yourself in all ways and you will benefit. Thank you for joining me and my family this holiday. I'd like to end with a Texas proverb from a dear friend: a good pair of cowboy boots can last you your whole life if you treat them well and the same goes for your body. Wishing you and your family a happy (and healthy) summer season!
Tara Lattimore, L.Ac. is the Clinical Operations Manager and Academic Advisor at AOMA Graduate School of Integrative Medicine. She treats in the South Professional Clinic on Saturdays and Tuesday nights.