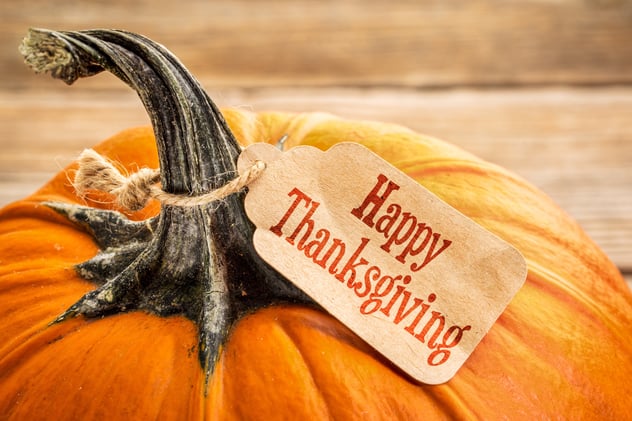 Thanksgiving is fast-approaching and while I mostly associate the holiday with contemplation and gratitude, I find myself preparing for two other activities: travel and overeating. The bad news is that both often loom large during the holidays and can negatively impact our ability to enjoy them. The good news is that traditional Chinese medicine (TCM) can help with both and I'm going to share some easy, approachable herbal options to treat the latter!
Ideally, we should eat mindfully and avoid overeating altogether but when these behaviors happen, it's unproductive to judge ourselves. Instead we should enjoy the journey and treat the destination as best we can. While I always recommend making an appointment with a licensed acupuncturist so they can prescribe a Chinese herbal formula tailored to your constitution, you may not have a chance to make an appointment before you travel or before the clinics shut down for the holiday. I have also found that powder and bulk/dried herbs don't travel as easily as pills, especially when going overseas and factoring in different customs restrictions. In these situations, prepared, over the counter (OTC) formulas are a convenient option to throw in your carry-on.
Food Stagnation
Before I make recommendations, I think it's important to understand what these TCM herbal formulas are treating. When we temporarily over-tax our digestive system with high quantities of dense, fatty, greasy, processed foods and alcohol, we shock our bodies and run the risk of developing what we refer to in Chinese medicine as food stagnation. It's like when you force too much food into the garbage disposal and it stalls. If you keep adding more, it's going to back up and you have no chance of getting the disposal to perform again until you fix the blockage.
In humans, the disposal is the Stomach and Spleen and the "stall" is food stagnation, presenting with symptoms like abdominal distention, belching, flatulence, nausea, fatigue (hello, food coma!) low appetite, and even vomiting and diarrhea. This is because the digestive system is temporarily unable to do its job of receiving, transforming and transporting nutrients because it is overwhelmed. Ideally, we should have a mindful, balanced and moderate approach to eating and try not to over consume in the first place; however, stress and obligation get in the way of even the best laid plans. When that happens, the following formulas can help transform the food, break up stagnation, and get your digestive system back to optimal function. I have included a variety of forms so you can choose which is most convenient for you:
| | | | |
| --- | --- | --- | --- |
| Encapsulated Powder | Tincture | Encapsulated Tea Pills | Tea Pills |
| | | | |
| Bao He Wan | Bao He Wan | Curing Pills | Culing Pills |
| Qualiherb | Far East Summit | Plum Flower | Chu Kiang Brand |
All of these formulas contain Shen Qu also known as massa fermentata or medicated leaven, which is useful in treating food stagnation but not appropriate for those with celiac disease. If you are interested in a gluten-free option, you should definitely make an appointment to see a practitioner in one of our clinics where they can prescribe a customized or prepared formula that will work with your specific dietary restrictions.
Happy Holidays
Usually, my husband and I join our adopted Austin family at a ranch outside the city and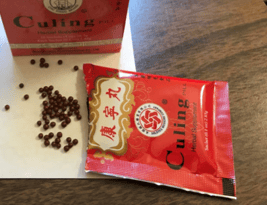 our hostess is a doctor of Chinese medicine. We are spoiled at the end of the night with a customized decoction that's been bubbling on the stove throughout Thanksgiving dinner. It's one of my favorite traditions. This year, we will fly home to see my parents for the first time in 3 years and they live all the way in Indonesia. Bulk herbs are not convenient for this trip so I will be turning to prepared formulas. I know I can't control everything that will be on the dinner table, and quite frankly, I don't want to. Part of the joy of travel is to enjoy other's traditions and I plan to mindfully indulge in everything in moderation out of respect for my host and my own experience.
As part of your pre-travel preparations, I highly recommend a stop by AOMA Herbal Medicine to stock up on whatever support you might need. Personally, I decided to pack the Chu Kiang Brand Culing pills. The dosages are divided into individual packets making them especially easy to transport and I like the consistency of the tiny pills. I even keep a pack in my wallet for emergencies! My husband prefers tinctures so he will pack the Far East Summit Bao He Wan. He can bring it in his carry-on because it is only 2 fluid ounces and TSA approved, provided he puts it in a quart-sized Ziploc bag with the rest of his appropriately sized liquids! We will also be drinking plenty of room-temperature water, getting sufficient sleep, practicing stretches and qigong, and continuing a regimen of probiotics throughout our trip!
Wherever you are spending your holidays and whatever your traditions, I hope you find time to rest and contemplate how amazing you are. This year has been challenging for so many and I am grateful for the many people in my life who inspire me to appreciate what I have, most especially my patients, coworkers, family and friends. From my family to yours, happy holidays and happy eating!