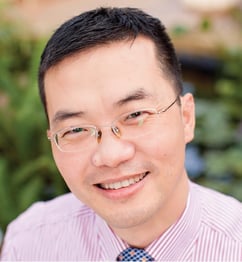 Nelson Song Luo, PhD, MD (China), LAc is a neurologist with a focus on the treatment of
stroke and other chronic degenerative disorders. He was recognized by China as "Excellent Doctor," an honor bestowed on only 10 of the 2,000 doctors in Provincial People's Hospital in Chengdu, China. His international teaching circuit includes more than fifteen countries.
Please tell us about your history before joining AOMA.
I graduated from one of the most ancient Chinese medicine universities in China, Chengdu University of Traditional Chinese Medicine. After graduation, I served Sichuan State Hospital & Sichuan Provincial Academy of Medical Science for more than 12 years. In the hospital, I enjoyed greatly the weekly Friday afternoon case discussions in the national neurological center. I called it "Friday Afternoon Brainstorm" since there were many rare and complicated neurological cases from remote rural areas or other cities. Many experienced senior neurologists were invited to lead the case discussions. I was invited to serve patients in the neurological ICU. This was why I could successfully serve the patients in the ICU of Seton Medical Center here in Austin. While at the Sichuan hospital, I was called "stair-climber doctor" since I went upstairs and downstairs every day to serve patients throughout the hospital. No wonder I could not find enough time for lunch since there were 4000 beds in this hospital. During those 12 years, I served thousands of patients in various departments including neurological, cardiac, digestive, respiratory, endocrine, orthopedic, neurosurgical departments, ER, ICU, etc. I was awarded the title "Excellent Doctor," an honor bestowed on only 10 of the 2000 doctors in this hospital.

I know you've been working on your Master's degree in Public Health from John Hopkins, please share a bit about that experience.
Since I have a full-time job at AOMA, I have to say that earning the MPH (Master's in Public Health) at Johns Hopkins University at the same time is very challenging. I really appreciate AOMA's support during my study. AOMA faculty members took very good care of my classes and clinics when I needed their help last June. The program has been very intense, but the good news is that I have done well! My efforts, many sleepless nights studying, have been rewarded. I feel I've gained much deeper learning on clinical diseases, research methods, clinical trial design, and qualified paper requirement, etc. Moreover, as a clinic doctor, I have learned how to better interact between clinical work and research. It has been an honor to work and learn with talented clinicians and researchers from all over the world. As an instructor, I shared many related important contents from Johns Hopkins to AOMA master and doctoral students. I also tried to modify my teaching based on what I have learned so far.
I know you have a specialty in Neurology, what led you to that specialty?
When I was studying in Chengdu, I selected a neurology course out of curiosity. I was scared to do that since the lead professor was Yongyi Li, a very respected expert in neurology with a reputation of treating students rigorously. To my surprise, I was graded 98 out of 100 in the final exam which was the highest grade ever in that class. It was professor Li's encouragement that inspired my interest in neurology. After graduation, I served at Sichuan State Hospital & Sichuan Provincial Academy of Medical Science for more than 12 years. There is a national neurological center in this hospital where I learned a lot and treated a large number of patients with neurological diseases. I knew this work would make a difference in many lives. A few years later my father had an encounter with one of my stroke patients. The man's story and gratitude for my work brought tears to my father's eyes as he shared the story. This was so touching and reassured me about choosing Neurology.
Please share anything else you'd like us to know about you; why you enjoy what you do, your family, your hobbies, etc.
My family: My great grandfather, aunt, and uncle are all physicians in China. When I was little, an anxious middle-aged male knocked at the door in the middle of night. He was hesitant to ask my great grandfather to help his seriously ill wife at home. In this extremely cold winter, my 90-year old great grandfather grabbed his medical equipment and followed the man without any hesitation. The image of my great grandfather, which disappeared slowly in the dark, will always linger in my mind. In my heart, I was born to save patients' lives, and pass the love from my great grandfather to the future.
Hobbies and Leisure:
I love the outdoors. I'm very passionate about playing soccer and jogging outdoors in a natural park, along a pavilion, and near a lake. I enjoy breathing the fresh air and hearing the melody of birds. I enjoy holding parties, making dumplings and sharing stories with my neighbors, students, and friends. I still remember the time my students and I made more than 400 dumplings at one of my dumpling parties!