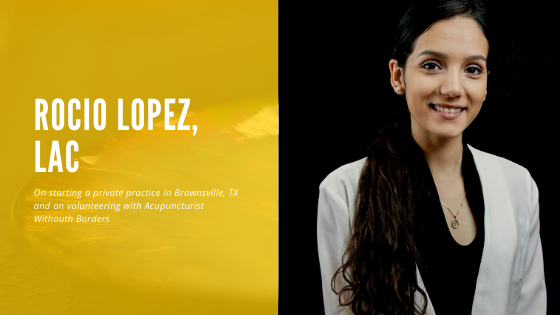 Tell about your journey with TCM and Acupuncture and how your education at AOMA made a difference.
I was first exposed to TCM when I was treated for migraine headaches years ago. Back then; my intention was to obtain a graduate degree in psychology so studying alternative medicine was not in my plans. However, the experience I lived as a TCM patient was very transformative. I felt a drive to help others the same way I was helped. When I decided to pursue my career in TCM, I researched programs and AOMA stood out from the rest. It is a highly ranked school and the compact number of students in the classroom gives the opportunity for one-to-one guidance. When I visited the school, the beautiful and tranquil courtyard really gave the icing on the cake. At AOMA, I learned so much in and out of the classroom. Our professors were always willing to share their knowledge and experience with us. Today those teachings have proven to be invaluable in my everyday practice.
You chose to serve in South Texas where you are from. Tell me about that decision and how you are building your practice there.
When I decided to pursue my career in Chinese Medicine, one promise I made myself was to come back to the Rio Grande Valley, or RGV, a region that consists of 4 counties and 9 cities located along the Texas border with Mexico. My decision to build my practice in Brownsville was mostly influenced by the love I have for my hometown and because I wanted to bring the RGV more accessibility to this medicine. I am currently practicing in a private space with two treatment rooms in a centric part of Brownsville. I see patients who are from Brownsville and the cities surrounding it. I am very grateful for my patients who have put their trust in what I do. I hope my practice continues to grow to give more individuals an opportunity to receive TCM treatments.
You do some impressive missionary work at the borders of Texas and Mexico. Please share why you do this and what the experience has meant for you.
The reason why I have volunteered with Acupuncturists Without Borders is because I love to help others. The populations living in the Matamoros camp are experiencing very difficult living conditions. They are living in what it is referred to as a "tent city" therefore they are affected by climate changes, violence, poor hygiene, and abuse. We go and offer NADA treatments outdoors on lawn chairs. At first, most individuals do not believe that needles can do anything other than sting. However, we are always fortunate to have a brave and willing individual to try out our treatment. When other passerby notice how relaxed and how individuals sink into the treatment, they begin to show interest and slowly one by one sit on our chairs to receive treatment. It is a beautiful experience. Even though we as acupuncturists are not receiving the NADA treatment, we can definitely feel the relief and the peace these individuals are feeling during the treatment. It is very gratifying.
Please share anything you'd like us to know about you, your interests, passions, hobbies, etc.
One thing my fiancé and I love to do as a hobby is to plant. We started with a mango seed and we now have over 20 kinds of plants of which are mostly fruits. It helps that we live a very tropical and humid environment because our plant babies love it.
----------
Thank you so much for your time, Rocio! We miss seeing you on campus, but Brownsville is very lucky to have you!