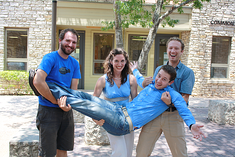 Students are the heart of any academic institution and AOMA's students in particular are passionate, motivated, intelligent, and caring individuals. AOMA offers a wide and diverse range of student services, including brown bag seminars, a China study trip, individualized career counseling, and more. All of our services are designed with the intention of supporting students on the personal and professional healing journeys they experience in acupuncture school.
Brown Bag Seminars
Studying Traditional Chinese Medicine is a deep, lifelong learning experience with a myriad of topics to be explored. Brown Bag seminars give students the opportunity to enrich their practices with free one-hour lunchtime lectures and demonstrations. Topics range from practice management tips to Five Element acupuncture to herbal quality discernment, and more.
Brown bag seminars are hosted by alumni, outside experts, current students, and staff. All brown bags are free and open to the public. They are held throughout each term on campus from 12:45-1:45 pm. View the summer schedule and see examples of past brown bags here.
Student Organizations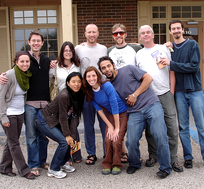 Joining an extracurricular student organization is a great way to learn new skills, share your knowledge, practice leadership, and meet other students while in acupuncture school. AOMA is home to a number of student-run organizations, including the AOMA Student Association, Ju Jutsu Club, Qigong Group, AOMA Herbs Club, Research Club, and the Chinese Culture Club.
Students are welcome and encouraged to start new clubs at any time. To learn more about AOMA's student clubs and their events visit the Student Organizations site.
China Study Tour
AOMA offers a biennial China Study Tour in collaboration with Chengdu University of Traditional Oriental Medicine in Chengdu, China. The China Study Tour combines cultural, educational, clinical, and recreational activities to provide students an enriching, once-in-a-lifetime experience.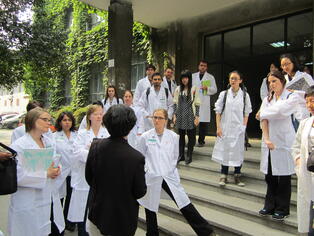 Specific details of the China Study Tour change year to year. In the past, students who participated began their trip with a sightseeing trip to Beijing before flying to Chengdu, the capital and cultural center of Sichuan Province. At Chengdu University, students had the opportunity to study herbs and gained valuable hands-on clinical experience at the university, working in treatment centers under supervising professors.
The 2013 trip concluded with study at Emei Mountain, the highest of the four sacred Buddhist mountains. There, students practiced tai chi, qigong, and meditation. Students also had the option of extending their tour an extra week to visit Tibet.
Studying medicine in China is an unforgettable, life-changing experience for those who are able to participate in the trip, and one that AOMA is proud to offer. The next AOMA China Study Tour will take place in the spring of 2015.
Career Services
Starting an acupuncture practice or securing a job after graduation is a top priority for students and for the Student and Career Services Department here at AOMA. In order to assist students and alumni in their work after school, AOMA provides a number of career resources.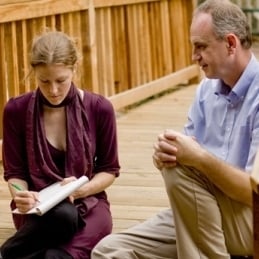 Each week AOMA receives job opportunities from practitioners across the country hoping to grow their practices. Student Services also searches the web for relevant employment postings and shares these opportunities on the website and on the LinkedIn group for students and alumni. Last year, AOMA shared more than 600 job opportunities on LinkedIn!
Having trouble building a resume? AOMA offers a Resume Builder—a free online tool to assist students in creating a professional resume. The Resume Builder provides tips, templates, and helpful suggestions to make the resume writing process as smooth as possible. AOMA also offers free individual career counseling to help students and alumni apply for jobs, receive feedback on their resumes, and clarify their personal and professional goals.
More Career Resources.
Housing Support
Austin is consistently ranked in the list of top cities to live in the US so it's no wonder that more and more students are moving here to attend AOMA. Student Services is able to help students with their search for housing. We maintain a housing opportunities website as well as a Student Housing Forum on LinkedIn. Long-term housing, short-term opportunities, and roommate requests are posted regularly. Students in need of housing support should visit our LinkedIn group and join the Student Housing Forum.
Individualized Support

AOMA is happy to offer additional support to students when life presents challenges that interfere with student success. Julie Aziz, LCSW, Director of Student and Career Services, meets with students individu
ally to help them develop the support system they need, and to create a clear, intentional plan for personal and professional growth. To set up a meeting with Julie, email her at jaziz@aoma.edu
For students in need of counseling, AOMA is partnered with Sol Community Counseling in Austin. Students are able to take advantage of reduced-rate counseling services, including individual and couples sessions. Rates are currently $20 per session for individuals and $30 per session for couples. To learn more about Sol's offerings, call Sol Community Counseling at (512) 366-0954.
We're lucky to work with such a great student body here at AOMA and we're always happy to hear from prospective students, students, and alumni. If you have any questions, comments, or would like to host a brown bag seminar contact Student and Career Services Director Julie Aziz.