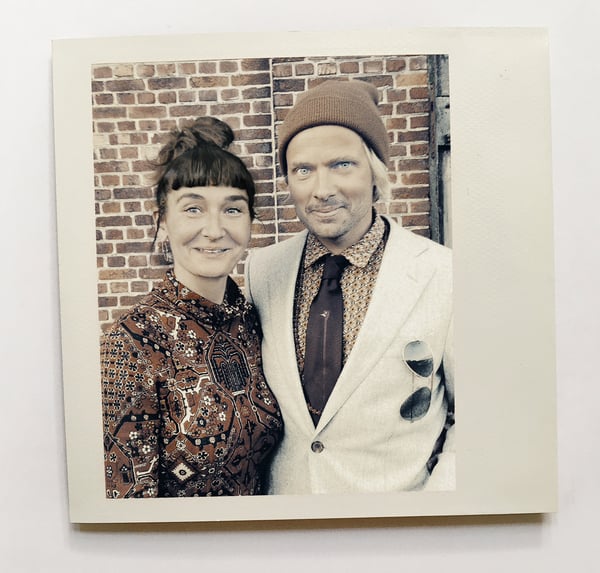 Flora-Joan and Michael Silvester van der Giessen are an inseparable pair of creatives who now have been working together for over fifteen years. Recently the couple introduced themselves to the world of 'the healing arts' through the Nature of the Points project (N.O.T.P).
Flora grew up in a family of acupuncturists and this shaped her art and identity. A professional cultivation of this upbringing became a beautiful addition to her curriculum after she herself graduated from the academy as an acupuncturist where she works as a clinical assistant).
Prepping the students for their exams gave her a good indication how mnemonic devices could help with learning the name, the meaning and function of each point. The couple is reverse-engineering this insight into easy to consume memory aids / aide-mémoires for students.

Flora believes that exemplifying the nature of the points may invigorate a practitioner's art (and could inspire a patient's interest in the waiting room as a bonus).
Flora, I'm such a visual learner and therefore obsessed with your instagram page. You must have an art background?
Visual learning makes so much sense, fellow Visualetta, especially when we consider that the biggest part of the brain is designed as a 'image processor' rather than 'word processor'.
Or In the words of Confucius, "I see and I remember."
Affirmative, I do have an art background.
 It started as a kid with a knack for creating.
 I'm hoarding sketchbooks/visual journals full of drawings & artistic plans 
(started making them in year 10).
 It led from being a little shutterbug to mastering silver photography techniques, Art and Art History at L'institution des Beaux-Arts de Antwerp. 

After that I started to 'see' for a living (for almost 25 years now), working in editorial, commercial imagery and photographic fine art.



---
Are you a practicing acupuncturist or acupuncture student at the moment?
Currently I'm assisting at the Qing Bai academy 
(I studied there and they adopted me right after I graduated).

Working with the acupuncture students gives me a good insight how visual triggers can support studying TCM. As soon as the students make visual associations, their recall of information is much better than if they merely read through their notes or try to remember the words that are connected to the points. 
Empathizing with their study-material on a regular basis, makes that it grows and gets fostered in me too. 

In addition to this teaching schedule, I work as an acupuncturist in a family practice, and give charity-treatments.
Where are you located? Do you have any specialties? Who are your favorite clients to work with?
I live in Amsterdam, but I practice in the south.
 I love working on the psychosomatic 'shen-level'. My favorite human beings, in general, are those that take responsibility for their health and life.
How were you first introduced to acupuncture?
My grandma used needles to alter her health, but the real introduction came when my mum, aunt and uncle started studying TCM. Through their enthusiasm I learned the basics between year 10 and 16.

They were the first to study acupuncture in our neck of the woods and had to go to China to graduate because a Lowland masters program did not exist yet. I was a teenager when they moved to Beijing to master it. I went with them, and since a was already studying photography I documented the experiences leading up to their exams.

 The memories of being part of these events, and the art and photos that came out of that were definitely a formative experience for me.
 They shaped my identity.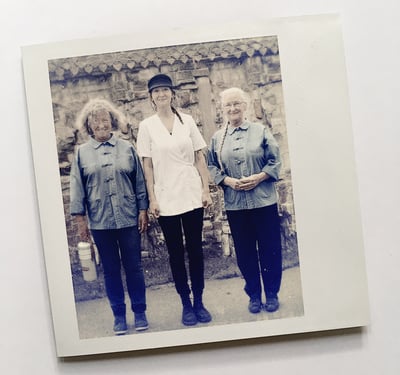 What has been most surprising to you since you started your career as an acupuncturist?
Although I had a good understanding of the basics when I started the study, I still had the idea that acupuncture was something you "could do". 
It was a most surprising discovery that it is so much more than that: not only is acupuncture a living phenomenon, IT'S A WAY OF LIFE!
How did you come up with the inspiration to start your instagram project?
The inspiration for this project came directly from my own need for a method by which to learn the names, functions and nature of the points during my study.

I used my creative skills as a learning tool; creating mind maps and photo collages that complement the more linear text-based format most of my books followed, and the verbal input from my tutors. 

Once qualified, I kept going back to those maps. They proved very useful in practice since the poetic nature of the point names embrace the stratification which relate not only to the physical but also their spiritual aspect.
Checking in with myself to see what stuck long-term, I started to reverse-engineer it, 
in an attempt to give others the opportunity to use this visual learning style to their advantage. Ideally not only for the students I work with, but also other trainees, fellow practitioners and those who have a fascination for TCM. Hopefully, it even inspires a patient's interest.
Do you plan on monetizing your work (magnets / publishing a book / prints / etc)?
Making education captivating is the greater purpose. With that said a passive income stream is important if we want to keep freedom to create. The Nature of The Points webpage already offers educational posters (and we have a few other items lined-up).

If this turns out to be lucrative, the dream-scenario is to sponsor acupuncture charity organizations and to help the acupuncture community.
 Perhaps we can even boost our work to more immersive and interactive levels.

 Think: talks, workshops and or real-life mind maps and art installations where you can walk through a meridian.
Which other artists inspire you (modern or not)?
Everything around me inspires; nature, the cosmos, other sapiens (especially those who believe in the relationship between spirituality, healing and artistic creation). 
Besides that, I am inspired by a lot of the -isms: buddhism, taoism, daoism, confucianism, iconism dadaism, primitivism, surrealism, spiritualism, futurism.
I tend to gravitate to old anatomical charts and medical education books and posters. 
Think patterns, primitive art, symbology, colorimetry, cosmography, sacred geometry, foliage and a pile of vintage tarot cards and you have me at my happiest.
What are your favorite mediums when you are creating something new?
I enjoy using a range of media in my work, but Peter Deadman's "Nature and Health" talk (at the British Acupuncture Conference 2017) got me thinking about using more photography in my visual language. Deadman tapped into the biophilia principle that even indirect experience of nature (including images of nature) can improve your health.
This made me ponder the balance between the challenge of understanding medicine and a natural mode of learning that could move valuable information on into a new consciousness. 
My brain started ticking and the whole process unfolded organically and the points practically created their own image.

Currently we are shaping these into decks.
 And we're pretty excited about this because we believe that the flexible style of such a tool accommodates a wide range of applications.

What do you do in everyday life if you need a boost of inspiration?
We pull back in nature, this is all about fusing the richness of Chinese knowledge with nature and evincing that relationship. Finding resemblance to the spiritual level of a point has a pilgrimage aspect to it. Enter: motorcycle, sidecar, dog, scrapbook, camera, watercolor, pen and pencil and we are good to go.
How do you choose which point to feature? Do you meditate on them, or is it based off of experiences you've had with them in clinic?
This project has been in the making for years, so a lot of points 'just happened' to me. I collected those revelations, photos, notes and sketches in my scrapbooks. So now that we really took off time to work on this project, we review that input per meridian. The first decks and mind-maps will feature the Kidney channel, so that is what we focus on now.
Do you use any references when you design them? They each have such unique detail.
So glad you noticed :). The pre-designing part is all about getting information and coupling feedback.
 Think books (see list below), notes, courses and specializations.
We are always trying to be attuned to what is really unique about a particular point, and then will dig in on that. We spend a lot of time researching. Each point could take days.
If you are interested in point names and energetics, check out all books by Josef Viktor Müller, Dr. Jeffrey Yuen, Rochat de la Vallée, Peter Mandel, and Peter Deadman (especially Live Well Live Long). 

Of course the classics:
Speaking of point names, do you read or speak Mandarin? If so, could you speak a little on how you interpret names in a way that seems linguistically and energetically accurate when English terms might not even exist?
Through the study and my time in China I can interpret most characters (my visual person gift) but I am not a Sinologist, nor do I speak Mandarin. I am therefore very grateful to the generations before me that have translated the classical text.

Considering the names are rooted in two millennia of a different culture and language, you have a good point.
 What helps to interpret each name is that it is made up of picograms. These are, in essence, highly stylized images. This makes that the poetic acupuncture point lends itself to visual descriptions.
You go into the point names in many different languages on your page. How many do you speak? What is your native language? Where did you grow up?
Growing up was an interesting situation,
 my parents had an exceptional (for the time and the area/southern Holland/swamp/national park) anthropological approach.
No TV, no meat, and no processed or chemically sprayed food. I have two siblings, but my parents fostered children from different countries and cultural backgrounds. So we never spoke solely one language in my household. My mother has a knack for languages and my father could trace a lot back to knowing Latin. I didn't cultivate these languages, but I can still negotiate 'toy related affairs' in French, German, Arabic and English. Adding the point names (and alternate point names) in different languages gives context, and hopefully connects us. In the end, my real linguistic ambition is learning to speak 'Human'.
How do you carve out time for your creative-self?
I rise really early, that's when things get creatively done. Next is a coffee & synchronization break with my husband Michael in front of the boards. I lavishly apply our mood boards and notes to the walls and doors of our workspace. 

He is creating a parallel deck with the same imagery for those interested in acupuncture but don't "speak TCM". 
This alternate version is connecting acupuncture points (especially the psychosomatic level) to eastern philosophy and western quotism.
Michael and I come from very different creative backgrounds, but we have many years of work-experience together and he's a great collaborator. Not to get too deep, but once you find that person that you want to be around, it's all very easy. Even though we spend so much time together, we don't quibble. He is a beacon. He allows my imagination to soar cloud high, but knows how to lure me back to the source before it gets the best of me. Working on this project together has definitely been a labour of love.
Do you feel any pressure to post regularly, or just when inspiration strikes?
By regularly posting this journey we are able to see our work evolve, which is very useful.
 Instagram acts as a portfolio and helps other enthusiasts to discover our work. We've made acu-friends all over the world and it's great to be able to follow their journeys and talk about their experiences.
 

In regards to the pressure, I can say that we do monitor our time on social media. We guard our intention. The purpose of our page is not to be buried in a sea of likes, but to be beneficial for those working in the realm of healing. 
The pressure does not lie in having a respectable social media presence,
 but in the belief that it can be the legacy of our generation to make acupuncture a big part of 'the solution'. 
We can be the generation that stood up and accentuated how healing and nature is connected. The ones that recalled, that adjusted in the quest for meaning, for love, for community, and the ones that reminded those in need that the real answers are within (not on google or Instagram) and guided them home. So yes, in a way that's pressing but it is so worth putting energy in.
This is a really cheesy question, but if you were a point, which one would you be, and why?
Hahaha, I love this question (and all your other questions). 
As an 'homage to the fromage' Kid-6 comes to mind because I love & use it so much… but then again, in my case it can't be water or cheese. Based on my constitution it has to be Wood. So that's in favor of GB-24; Sun & Moon.


The brilliant Josef Müller says about this point:

"Das scharfe Tageslicht des Verstandes wird mit dem milden Mondlicht des Gefühls ausgeglichen." 

"The sharp sunlight of the mind is balanced with the mild moonlight of the intuition."
First and foremost the point is called Sun AND Moon, not Sun OR Moon. The sun can't do what the moon does and vice versa. 
They shine their light at their own time but share the sphere.
 And in this place of oneness, they need, recognize and appreciate the contribution of one another, since they have a common cause; 
being a balancing force that illuminates psyche and the path (Dao/meaning).
 Hence the alternative point name Shen Light.
Possibly, today's MO (driven by info- and biotech revolution, algorithms and other world-changing developments) 
leaves a hole to be filled in terms of purpose and meaning, and therefore could use cosmic light to illuminate a common unifying cause and purpose.

 Brother Sun and Sister Moon help us recognize and appreciate what we can contribute.

Obviously we're more than worldly beings. 
We have potential and can make a difference.
 If we believe and cultivate that, we can make the most of your time here on Earth. I'm game!
To learn more about Flora Joan and organizations she is passionate about check out the websites below: