For years AOMA has raised awareness regarding the complex and subtle medical needs of our returning military veterans, many of whom are regular clients of the professional and student clinics. Some veterans (including military RNs, PTs, and Medics) expand their medical training at AOMA and now rank among the great list of alums and current students.
But there are limited creative opportunities for returning vets, especially women vets, in Austin. The ARTEMIS ART & PEER GROUP for women military veterans and those in active service was co-created by AOMA graduate Kim Layne LAc, AOBTA-CP, Director of Integrative Medicine at the Samaritan Center; Pam Ferguson, Dipl ABT (NCCAOM), AOBTA-CI, AOMA's ABT Dean Emerita; and Annie McMillin, decorated Army vet and artist. Annie chose the name after the free-spirited Greek goddess of hunting, strength, and health.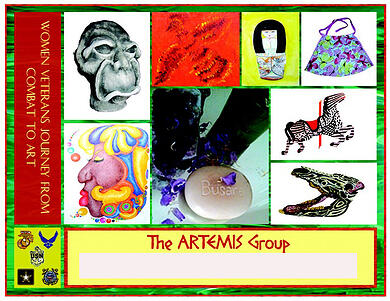 The Artemis theme – From Combat to Art – provides a friendly, supportive setting for women vets who are accomplished artists, along with those who are just exploring their creativity in oils, watercolors, mixed media, and crafts. The first group exhibit was held recently in the art gallery at the Unitarian Universalist Church on Grover Lane at 49th Street, where the group met twice monthly during 2014 in an airy classroom space overlooking a garden. The eclectic mix of exhibits included Zentangle black-and-white drawings; aprons made of recycled materials; painted skulls to honor roadkill; jazz artworks in oil; and collages of art, photography, and verse. The exhibit was a huge success. Visitors were in awe of art by veterans ranging in age from 30 to 90 in all branches of the military (from WW2 to the present day). Folks stopped in their tracks to read ad hoc comments from the meetings, pinned between the artworks. Most reflected problems that veterans experienced adjusting to civilian life after deployment, especially around non-military family and friends. Quips included: "I was there for Them. Not for Myself," and "I lost the normal range of emotions," and "Civilians don't understand."
Upcoming 2015 exhibitions are planned at the Samaritan Center in May for Armed Services Day, and in October at the George Washington Carver Museum. Some members of the group are clients of Kim's and Pam's. Ongoing meetings will be held at the Samaritan Center, an appropriate shift as the center takes a comprehensive treatment approach and is home to the Hope for Heroes program, offering military veterans alternative integrative care on a sliding scale.
Some Artemists have experienced various layers of PTSD following combat and/or sexual abuse by military colleagues. But the Artemis purpose is not to be a "therapy group." Annie McMillin describes it as empowerment through "non-therapy therapy." That's its charm. No one is under a spotlight. Artemis is just an informal gathering over coffee, muffins, and fruit, where participants talk freely and openly about their experiences while exploring different art forms. Accomplished artists generously share their technical expertise with those who haven't touched a sketchbook since childhood.
All women military vets and those in active service are welcome. Yes, it's free, but everyone chips in for refreshments! The next meeting is Saturday, February 21, 11 am-1 pm. Contact Kim at kim@samaritan-center.org or Pam at pamelacudot@gmail.com.
Pam's regular ABT column in Acupuncture Today will feature the Artemis Group in May.