If you're in the Austin area, then you definitely know that we are smack in the middle of summer season. Summers in Austin tend to be incredibly hot and humid. This year has brought warm temperatures and abundant rainfall. My tomatoes, mugwort and jalapeños are loving it, while I am left to sweat continuously until October arrives.
Patients often want to know how to best eat along with the season. One of the tenants of TCM philosophy is to live in harmony with your surroundings. What may be appropriate for Austin might not be the best for someone in Arizona. What may be best for a peri-menopausal woman might not be best for a 12 year old boy. While everyone is different, there are some guidelines that apply to most you can follow to make summer a little more bearable!
Watermelon Gazpacho (serves 6, total prep time 20 minutes)
This super refreshing watermelon gazpacho really hits the spot on hot days and you don't even need to turn on a stove! This recipe from Love and Lemons makes a big batch, so store the leftovers in the fridge for easy lunches all week long.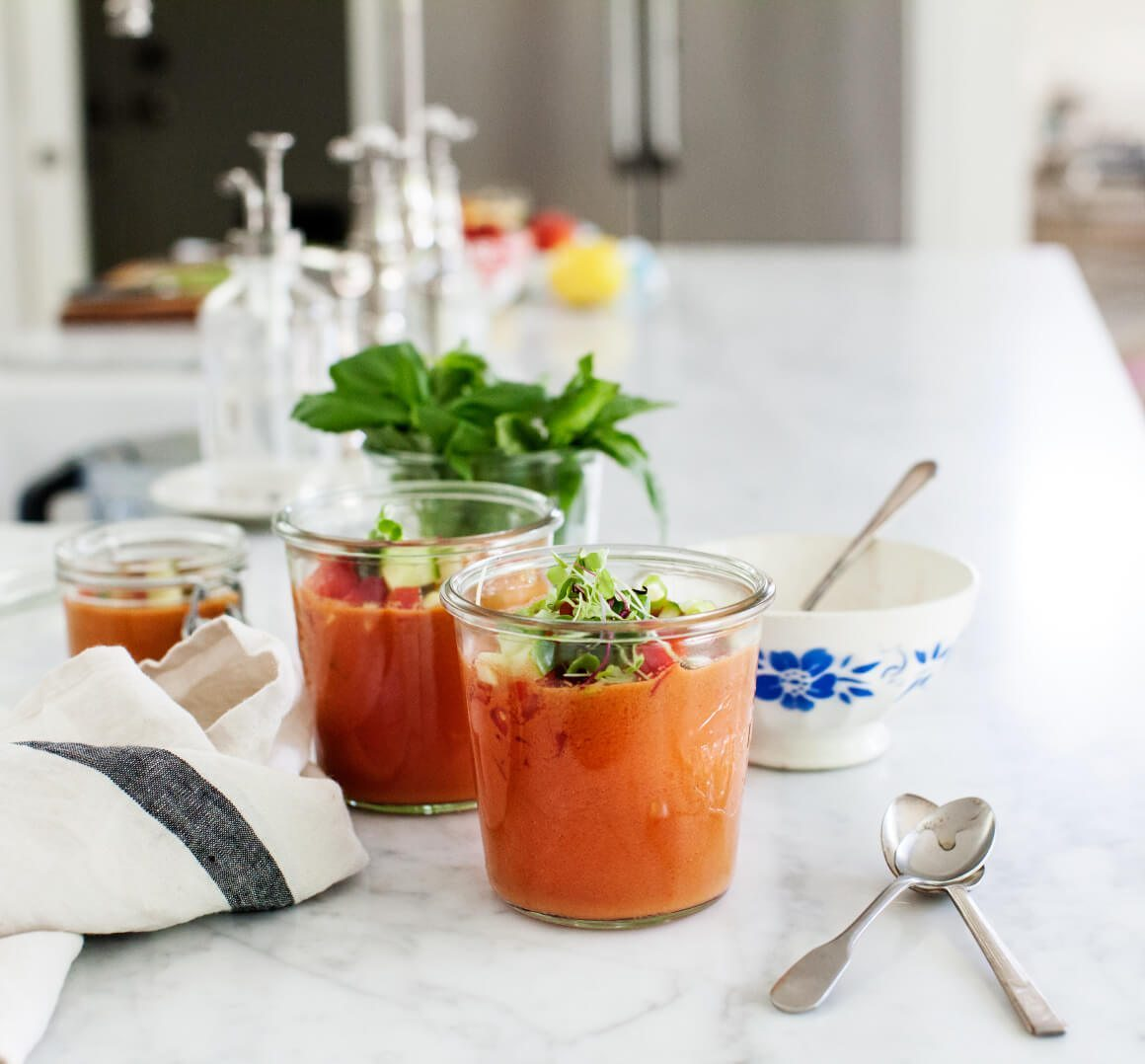 (image and recipe from www.loveandlemons.com)
Author: Jeanine Donofrio
Ingredients
4 heaping cups cubed watermelon (seedless, or remove seeds)
1 English cucumber, diced, reserve half
3 medium tomatoes, diced, reserve half
1 small red bell pepper, diced, reserve half
⅓ cup chopped green onions, diced, reserve half
1 garlic clove
1 small handful basil
3 to 4 tablespoons red wine vinegar
3 tablespoons olive oil, plus more for drizzling
1 to 2 teaspoons sea salt, or to taste
½ teaspoon freshly ground black pepper
½ jalapeño pepper (optional)
diced avocado (optional)
micro greens for garnish (optional)


Instructions
Set aside the reserved half of the chopped cucumber, tomatoes, red pepper and green onions and place the remaining half in a blender. Add the watermelon, garlic, basil, vinegar, olive oil, salt, pepper and jalapeño pepper, if using. Blend until smooth. Taste and adjust seasonings.
Pour into a large bowl (or small individual jars, as pictured) and stir in the reserved chopped vegetables.
Chill for 3 to 4 hours or overnight. Serve with drizzled olive oil.
Optional: garnish with diced avocado and/or micro greens before serving.