Enrollment in acupuncture graduate courses at on the rise with nurses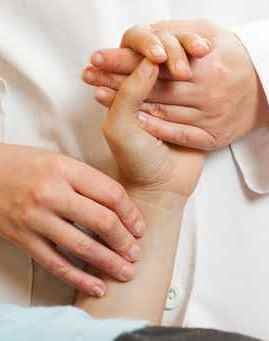 AOMA Graduate School of Integrative Medicine (AOMA) is observing an increase in registered nurses pursuing graduate studies in Chinese medicine.
Casey Romero is a registered nurse and full-time acupuncture student at AOMA. Romero's original goal was to attend a graduate-level nursing college, but a visit to Austin two years ago changed her education path.
"I had always wanted a way to practice alternative medicine but just really didn't know where to go or how to translate it into a career," Romero says.
On a visit to AOMA with her grandmother, who was receiving acupuncture in AOMA's clinic, Romero was amazed to discover that there was actually a place to learn Chinese medicine and at the same time apply the knowledge to her nursing practice. By the end of her grandmother's acupuncture treatment that day, she found herself in the admissions office.
"I knew at that moment that I really wanted to be a part of the integration of western and Chinese medicine," said Romero, "after meeting with admissions staff, I was sold." Romero believes that AOMA's focus on high academic standards, encouragement to engage in research, and work alongside Western medical practitioners, are all very important factors in becoming a skilled practitioner. Patients benefit when their nurses have knowledge of and training in Chinese medicine because it gives nurses additional tools and understanding of physical conditions and ailments, and alternatives for treatment.
Romero also believes that one area of study will truly advance the practice of acupuncture & Chinese medicine: AOMA's classes on how to run a small business.
Romero adds, "We all need to make a living. The more people understand how to run their practice successfully, the more people we will ultimately impact." Combining her nursing education and experience with her studies at AOMA has given her several advantages that will help in her future career. The practice management courses include lectures, projects, and presentations taught in collaboration with a range of experts in fields such as marketing, tax planning, liability, billing, and insurance. AOMA additionally offers career services for students and alumni.
Romero says, "Having a solid knowledge base on pharmaceuticals, I believe I will have an advantage when it comes to understanding herb/drug interactions and patient safety. Physical assessments of patients are also important, and as a nurse, I have that experience already."
AOMA has admitted forty-two students with nursing backgrounds since its founding in 1993. While admission numbers vary year to year, the school has seen an increase in the number of new students with nursing backgrounds in the past few years from five students in the 2008-09 academic year to nine in 2010-11 (80% increase). The graduate school averages 70 total admits per year.
RNs who come to AOMA benefit by creating additional potential career paths for themselves, enriching their professional lives whether their path leads to Western or Oriental medicine or a path that integrates the two. A career in acupuncture and Chinese medicine provides nurses the opportunity for professional autonomy. AOMA graduates are working as private practice acupuncturists, herbalists, authors, and university faculty. Graduates are at the forefront of their field, integrating eastern and western medicine in clinics and hospitals.