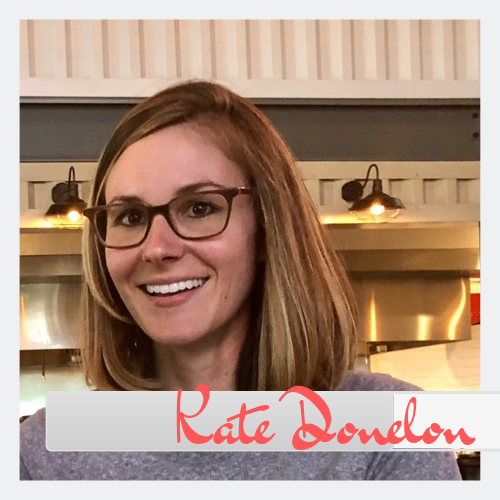 It's orientation week for our Fall Cohort and we'd like to introduce a new face on campus! Kate has been an analyst and manager working in the Washington, D.C. area for over fourteen years while also teaching yoga for the past six years. The stressors of her job originally led her to try and find balance (and sanity!) through yoga and meditation practices, and as that path unfolded, it eventually exposed her to Traditional Chinese Medicine and human anatomy, which quietly evolved into her passion over the past few years.
Kate completed her undergraduate degree in English literature, art history, and political science at Boston University, and spent her childhood in New Jersey. She is incredibly grateful for the opportunity to pursue this new adventure in Austin with AOMA, and hopes to integrate her new knowledge with her yoga studies to make this information accessible to the wider community in way that empowers others to live their best lives.
Why did you end up choosing AOMA?
I personally was very interested in finding a program that provided strong background in foundational knowledge, while also preparing students to work effectively alongside Western medical providers, as well as opportunities to make this medicine accessible to the surrounding community. AOMA's mission, values, curriculum, and community involvement all matched up with my goals, and my visit to the campus late last year further solidified my initial impressions. I am looking forward to everything this curriculum offers, from acupuncture and herbs, to expanding my knowledge of mind-body work and diving into biomedical sciences. I also really enjoyed the city of Austin during my visit and felt like it would be a great place to get to call home.
Have you visited Austin yet? And are you excited about living here?
I visited Austin twice before committing to a cross country adventure driving a 16-foot moving truck to relocate here at the end of August. I am very excited about living here, and already have found it is a much more relaxed and accessible area than my experience in the D.C. area. Despite warnings about traffic, D.C. sets a pretty high bar for traffic nightmares I have yet to see Austin match!
What class are you looking forward to the most when you start next week?
I genuinely am looking forward to all the classes on my schedule since I am especially grateful to have the opportunity to immerse myself full-time in information that has previously been my hobby and "side hustle". While some of my biggest interests going into this program include delving into the acupuncture points and herbs (which are probably going to be the most challenging!), I think Foundations I is going to be interesting this Fall.
What do you expect to be the most challenging part of transitioning from working full time to being in school full time?
Seeing if my brain still works after 14+ years in the workplace! At this point, it seems like the positives far outweigh the challenges as all my work clothes are packed up in a box, days of monotonous staff meetings under fluorescent lights are behind me, and I do not have to be in charge of anyone but myself! After completing my undergraduate degree, I thought I would never again find myself back in school after the rigor of tests and memorization. Although the predictability and stability of my job provided a level of security, the challenges it brought were not the kind that allowed me to pursue my passions fully.
Any skills or actual things that you'll be metaphorically/literally packing with you to bring with you? Anything you're leaving behind?
My furry partner-in-crime Rustie endured the cross-country relocation to Austin and is along for the journey, fueled by more opportunities to get outside a play ball as his consolation prize. While my knowledge of Bruce Springsteen lyrics might not prove beneficial in class, I hope my exposure to acupuncture and Traditional Chinese Medicine in my advanced yoga studies with Yoga Medicine will help provide good baseline familiarity with some of the foundational information. My time spent as a student and teacher of yoga also developed my personal studies of the human body, to include particular interests in anatomy and fascia.
In pursuing this new path, I have definitely taken a leap of faith leaving everything familiar and stable over 1,500 miles away, which is as scary as it is exciting. While the regular paycheck probably is the most notable thing I will be leaving behind, I am going to miss my friends and the yoga community I had the honor of teaching for many years. Moving to Austin also meant bidding farewell to the East Coast, which has been home for my entire life, and giving up the thrill of waking up to snow days in the winter months.
Kate, we're so glad to have you here in Austin and on campus! Welcome to you and the rest of the group who will have their first day of class on Monday.