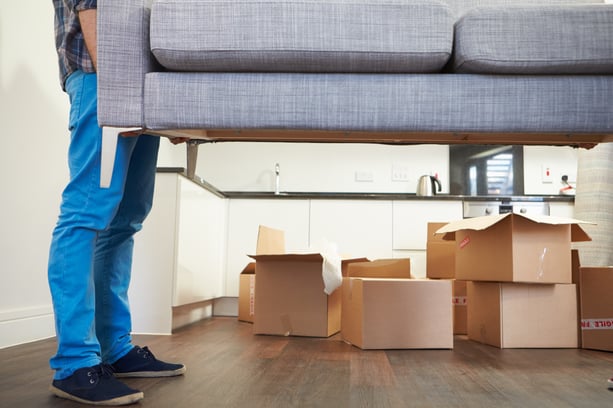 Graduate students completing their degree have a lot on their plates – from balancing course-loads and personal lives to anxieties over starting their post-graduation careers. Finding off-campus housing is another worry unique to the graduate-level experience. As a graduate student, your time in the dorms is likely over and you may be considering a number of factors relative to housing - whether to move closer to campus or to commute, to find a roommate or to live alone, how to make ends meet while attending school and supporting your family. Graduate students in the Austin, Travis County area may be especially compelled to rent an apartment somewhere in or near the city, so as to be close not only to classes, but also to a source of metropolitan jobs.
What would these students say if they were told it may be more mentally and financially beneficial to buy housing, than to rent? If they, or their spouse, has a stable income at a full time job with as much as two years of work history, even if they are still in their 20's, they have already taken a crucial step towards a home loan.
Here are five reasons why owning real estate when you are in graduate school, or have completed college recently, may be easier to do, and better for you financially, than you may have assumed. In case any of the real estate and financial terms in this article sounding confusing, you can read a glossary of these terms here.
5) Foreclosures and short sale properties are great real estate investments. These properties will come at a great price and though they may need sprucing up, these are going to be properties that lenders/banks will want off their inventory, since they are currently taking losses on them. Tip: Condos and duplexes have the ability to be foreclosed on or parts of short sales too, so don't count them out - you're not limited to single-family dwellings.
4) Federal home loans have low interest rates and sometimes, do not require a down payment. If you have a two-year history of employment, even while in school, and a minimum credit score of 620, lenders familiar with federal home loans will likely be willing to work with you. You should first seek out FHA home loans – while this loan requires a minimum down payment averaging 3.5 percent, the interest rate is low and closing costs can be paid by another party – you can especially look into their 203k loan for homes needing repairs. Another great option is the USDA home loan. Popular for low interest rates and no down payments, these loans are intended for low income Americans to buy modest homes in rural areas. Ready for a surprise? You can find eligible USDA home loan properties in the following Austin suburbs that are all 30 to 50 minutes away from the city: Garfield, New Sweden, Normans Crossing, Hutto, Leander, Jonestown, and Hudson Bend. For veterans and active duty – you should also seek out your options for the VA home loan, which is an entitlement to you for your duty to our country.
3) You can share a large house with other tenants to pay towards the mortgage. You can go for a home that has multiple bedrooms and bathrooms to share with friends or family, each go in on the mortgage with payments that can be as small as $500 per month, and help grow equity of the property faster. In Travis County, FHA loan limits are $331,200 for a single family dwelling, where the median price is $288k.
2) If you have student debts, you have two options you may not have considered. One is that you can always request a deferment or forbearance on your student loans to pay them off later, or to make smaller payments. If this is not possible, your student loan payments per month are factored into your DTI, or debt to income ratio. As long as your DTI, or what you spend monthly on bills, does not overshadow your disposable income, this looks better when looking to buy property. Also, if you put work into the property and it gains value, you can sometimes take cash out on your equity and use it to pay towards your student debts!
1) Buying your own property may be the best thing to do for your future and your health. Not only will you have the anxieties of rent raises or denials of lease renewals taken off your shoulders, but you won't have to worry about your landlord announcing your apartment is suddenly going to be sold as a condo, be forced to be in close quarters with unpleasant or disruptive neighbors or rely on your complex's repair guy to come by at an inconvenient time to fix something. Owning your own property teaches you how to invest money and pay off bills; it's an opportunity to learn how to repair things yourself, and, if you are looking to create your own family down the line, this home that you own is the best place to start. For animal lovers – except for some inevitable uppity condos out there, you likely won't have to worry about your cat, dog, or multiple pets being denied to live with you, or being overcharged per month for them to live with you. (It will vary pending on what county you live with what pets you can own.)
About the Author:
The author of this piece, Amanda Rosenblatt, is an in-house writer for VA Home Loan Centers. Visit their sister site, Federal Home Loan Centers, for more helpful info on federal home loans and to chat with knowledgeable experts here.
For more info on relocating to Austin, download our guide below: