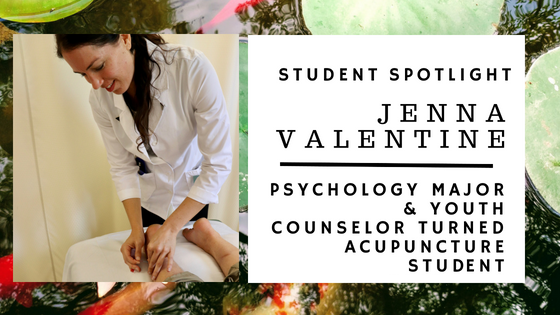 Please introduce yourself! Where are you from? Where did you go to undergraduate? What did you study? How far along/When did you start at AOMA?
Hi. My name is Jenna Valentine and I am originally from Northern California. I graduated from Occidental College in 2004 with a degree in Psychology/minor in Spanish and started at AOMA in Fall 2017.
What were you doing before you came to AOMA?
Lots of cool things happened in the 10+ years between graduating from undergrad and starting graduate school: I worked in the child welfare/juvenile justice system, ran an after-school program for at-risk youth, got married, had a baby, moved to Austin, got divorced, and started this new iteration of my life.
What was your first introduction to acupuncture and what was your impression?
I've been a pretty major fan of Acupuncture since college when I went to a fundraiser where it was being offered and saw immediate results. I got treatments on and off (including labor induction!) and nagged all my friends/family to try it (I can be very persuasive!), but I never made the connection that I could be the person doing rather than simply receiving the treatment.
When did you become interested in studying Chinese medicine and why? What made you choose AOMA as your school and/or shift your career focus to come to AOMA?
My divorce launched me out of stay-at-home mom world and I met with a career counselor to decide my next steps. In a brainstorming session, we both realized that helping others through finding health and wellness was my true passion. Acupuncture provided the crossroads between emotional and physical health as this medicine does not separate the two. AOMA was the ideal fit as I was committed to staying in Austin and had already heard wonderful feedback about the program.
You mentioned that helping others through finding health and wellness was your true passion. Do you think that's what drew you to psychology too initially?
I was drawn to study psychology as I wanted to work with vulnerable populations. I volunteered at a homeless shelter during high school and was committed to helping at-risk youth from an early age. During college, I worked with veterans with mental illness and substance abuse issues as well as counselor referred youth. I've worked with teen moms, gang members, trauma victims, and am committed to helping people find their path to a fulfilling life.
You also mention that acupuncture and Chinese medicine provides "the crossroads between emotional and physical health as this medicine does not separate the two." Can you speak to how, in your opinion and experience, acupuncture and Chinese medicine specifically can improve emotional health?
It was so refreshing to learn that Chinese medicine views emotions and physical health as an integrated experience. Big emotions can impact physical health and compromised physical health can impact emotions. This is so obvious to me and so frustrating when people don't "get it". I love learning about specific points, such as the ghost point category, that directly related to emotional health. I hope to delve more deeply into this area of the medicine.
What are some of your favorite classes and/or teachers at AOMA?
I have enjoyed all of my classes and professors at AOMA. The diverse teaching methods and perspectives create wonderful learning opportunities and I have felt incredibly supported by all the staff. I haven't had classes with all the faculty yet, but the classes I have taken have been wonderful. Dr. Mandyam and Dr. Shen are two of the most low-key hilarious people. They are both brilliant and their dry senses of humor make their classes amazing. Dr. Cone is such a joy to learn from and his passion is contagious.
Dr. Tan has the most beautiful, poetic way of explaining Chinese culture to us and helping us understand the larger context of this medicine. Dr. Song and Dr. Zhou's knowledge of herbs is unreal and their patience as we try to learn from them is unparalleled. Justin Phillips is so generous with his knowledge and always seems happy to take time out of his day to chat about what he has learned. Anne Cusick and Dr. Love are two of the sweetest and smartest cheerleaders always taking the time to help students regain their confidence during their learning curves.
Robert Laguna is a star. He will bend over backwards to help anyone and he provides students with both big picture and real-world knowledge. Dr. Luo always goes the extra mile bringing in photos and stories of China, his life, and experiences. Dr. Yan & Dr. Xu manage both grace and strength as they teach us Taiji and Qigong with seemingly limitless patience. Dr. Fan is so strong it's ridiculous and makes Tuina seem easy (spoiler alert: it's not). And, last but not least, Dr. Wu is as magical as everyone says.
What is your favorite thing about AOMA and why? Describe so far your experiences as a student at AOMA?
AOMA is such a sweet community of people dedicated to serving people. It has been a balance being a single mom, working, maintaining relationships, having adequate self care and managing the rigorous program, but I have felt incredible support from the students, faculty, and administration.
Have you started treating as a student intern yet? If so, please describe a unique experience or something that surprised you.
I've recently started treating in the student clinics and have been surprised at how incredibly kind the patients have all been even though many are in pain.
What, if any perceptions of Chinese medicine have changed from when you started the program to now? What vision would you like to see for the future of healthcare?
Prior to starting at AOMA, I think I viewed Acupuncture as a secondary medicine. I remember someone asking me if I was in medical school and I said, "No, I'm in school for acupuncture." Boy was I in for a surprise when I realized I was, in fact, in medical school. The Western world has a way of devaluing the "alternative" and there seems to be an unspoken assumption that one only uses 'the alternative' when one cannot get 'the real thing.' So, I guess we need to stop calling Chinese Medicine "alternative medicine" or "Eastern medicine" and simply call it what it is: Medicine.
What are you plans after graduation?
As for my plans after graduation. . . I am blissfully unsure. The current vision is to find a way to get paid to travel the world and offer this medicine all over. I would love to work in a wellness center especially one that has a mobile component. I will also be continuing to raise my incredible daughter, perfect my right hook at the boxing gym, provide coaching and support about relationship/intimacy issues, and spend too much time laughing at memes on the internet.
Jenna is a student in AOMA's Master's Program. To learn more about our Master's Degree program click below!