Sean Hanna, LAc, MAcOM
Class of 2005
Military Branch: US Navy
Rank: Hospital Corpsman Second Class (FMF)
Years Served: 8
What prompted you to return to school?
I was still in the Navy when I decided to begin studying TCM. Stationed at the Naval Medical Center San Diego, I visited Pacific College of Oriental Medicine and immediately found a fascination for TCM. Eastern philosophy had provided me with much comfort during my naval career and I was overjoyed to discover a medicine aligned with such a worldview.
Why did you choose AOMA?
Due to the death of my step-father in 2002, I needed to return to Texas in order to be closer to my family. While at PCOM, I had heard of AOMA and the strength of the program, so I chose to transfer to AOMA to continue my studies.
What military education benefits, such as the GI Bill, did you use while attending?
While still on active duty, I utilized the Navy Tuition Assistance program to help with the cost at PCOM. Upon exiting service, I began using my Montgomery GI Bill at PCOM and exhausted those benefits finishing at AOMA.
What has your experience been like as a student and/or alumnus?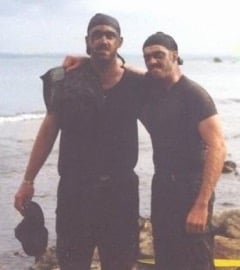 Coming from a Western medicine practice in the Navy as a Fleet Marine Force Corpsman, the transition to the Eastern medicine view posed some difficulty. For the first couple of years, I tended to attempt translation in my mind to figure out how acupuncture "really" works. Through the guidance of the excellent professors at AOMA, I was able to finally separate the two medicines in my mind and take a beginner's mind approach to TCM.
Finding peers that I could relate to also posed challenges. My experiences as a combat field medic left me with a perspective that did not fit easily with my cohort in school. It took a lot of personal work, on my part, to find common ground rooted in the study of TCM with my fellow students. Being a combat veteran with almost nine years of service, married father of two boys and full time student was not the typical demographic. I made some lifelong friends, however, I never truly felt that I belonged. I know now, through my work in service to Texas' veterans and their families, that my situation was not unique and only wish I had made more veteran connections in the community earlier and learned that there are people and services from which I could have benefited.
What advice do you have for veterans returning to school?
Connect with veteran service organizations and remain involved with the local veteran community. I believed my military service was in my past and was blind to how those years had affected me and were continuing to influence my life. I believe my path could have been much smoother had I known how my service continued to be a part of who I am.
What challenges and rewards have you experienced while working with military and veteran populations in clinic?
Upon gaining licensure, I opened a private practice clinic with Jacob Godwin, one of my fellow students and friend. I struggled to make connections with potential patients in the community. I still had the mindset of a combat medic, and mistakenly missed out on many opportunities to serve my community through my own ignorance.
A typical example is a potential patient would inquire my advice concerning trying acupuncture. If the condition was not limiting their functioning, I would dissuade them spending money seeking treatment. I would recommend lifestyle/choice changes and leave it at that. Needless to say, my clinic did not remain open when the lease expired.
I then decided to turn my attention toward the veteran community and almost immediately doors began to open. I joined up with other veterans and advocates to serve the veteran community, and together, we began developing volunteer treatment opportunities for veterans and their families that they otherwise could not afford or may not even know existed. I found a potential patient population that had a similar worldview to my own and we spoke the same language. I appreciated the opportunity to expose the veteran culture to a medicine and worldview completely different from one they had previously experienced. Within a short time, I accepted a position at a local counseling center, integrating TCM with clinical counseling services. I have learned to meet the patient where they are, without judgment, and treat them accordingly. Working to serve the veteran and family community, in direct patient care, and eventually program development and expansion, has afforded me the joy of seeing patients get relief when they thought none was to be had and provided me with continuous opportunities to serve.
Watch video interview with Sean