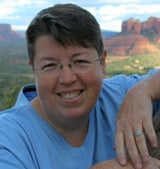 Cat Calhoun is the first in her family to go to college and the only one thus far to receive a master's degree. Before she came to AOMA she was a Senior Network Administrator for the city of Austin. Cat was involved in several car wrecks that damaged her neck. She found an acupuncturist who not only fixed her neck, but also cured her recurrent tension headaches. When her job shifted to more desk work and less face-to-face interactions with clients she decided to do some soul-searching and change careers. She researched and visited many acupuncture schools and found that AOMA was one of the best schools in the country. She says "we have some truly world class professors, both in knowledge and spirit. They are the power and the gems of the school."
While in school Cat became known for her giving, communal spirit that is always ready to offer encouragement to her fellow students. She became famous at AOMA for her donation based website called CatsTCMnotes.com. The website started when a fellow classmate missed a couple of classes and asked Cat to take notes for her. Her notes were so detailed that other classmates wanted copies. She decided to put them on the web to share them with anyone who wanted another perspective on the information presented in class at AOMA. This website is now being viewed by people from all around the world. Cat says, "I've gotten appreciation e-mails from TCM practitioners and students in the U.S., Canada, England, Germany, Thailand, and most recently from Israel." She has done a fantastic job organizing complex ideas and putting them into accessible charts for current students to study.
Cat graduated from AOMA in Summer 2011 and is already well on the way to becoming a successful business owner and practitioner. Although she has done most of the "normal" things graduates do once they leave school to become business owners, her philosophy is starkly different than most. Cat's approach to building her patient base starts with building community. She is drawn to "communal style acupuncture" and has always been open and willing to help anyone who crosses her path. Her first piece of advice to new graduates is to remember "there are going to be rough spots you will hit and you will live through them. Get serious about a meditative practice like yoga, tai chi, qigong, transcendental meditation, mindfulness meditation. You're going to need it!"
Cat has continued this philosophy of building community by moving her practice into her own zip code. She thinks "our culture suffers from lack of 'neighborhood' and connection. I want to work in my own community, helping people to find healing and connection." In the next five to ten years Cat desires to start a residency program for students that are newly graduated. "I want to build a clinic with a 'neighborhood' of acupuncture specialists in different fields who are willing to take on a new graduate protégé, teach them our business model and help them get on their acupuncture feet before we send them out into the world." She currently gives students discounted acupuncture rates to both keep them in her life and share what she has learned with them on her path. She is also currently offering Reiki and herbs to treat a variety of health concerns, but focuses on insomnia, anxiety, depression, stress, gynecological, hormonal imbalances, and pain relief. She says, "I want to make acupuncture as accessible to as many people as possible while still giving a quality treatment in a safe private space." Visit Cat's website.