Namaste!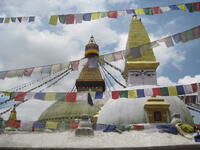 I have had the most amazing past five months living in Nepal providing acupuncture and Chinese herbal medicine at a healthcare clinic in a beautiful place called Bhottechour. Through the kindness and generosity of many members both in and out of the AOMA community, I was able to take off on an adventure of a lifetime and help many people in need.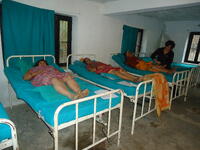 I consider my volunteer service in Bhottechour to be a resounding success. Although I don't have the exact numbers, I provided well over 600 treatments in the past five months to people with little to no affordable or accessible healthcare options. These treatments ranged from knee pain and general body aches from working long hours in the fields, to varicose veins, hypertension, stroke recovery, high uric acid levels, allergies, various unknown pathologies, and more. I witnessed people who experienced pain for years become 90-100% pain free in just two to five treatments. The smiles and appreciation were abundant.
As a member of the clinic staff, I got to engage in the day to day environment of the local people. I woke up to an amazing mountain view. I ate delicious traditional Nepali food consisting of a heaping plate of rice, a medley of spicy vegetables, and dal, a type of lentil "soup". All of this I ate using only my right hand and with the unfettered joy of a child who plays with their food.
I took pride in my hand washed clothes and ability to use the restroom in a non-western toilet. My showers were few and far between, but I know my cleanliness was still greater than that of many of my patients.
Eventually, I learned enough Nepali to be able to get through a rough version of a patient intake without the use of my translator. And I finally became accustomed to the randomness of electricity availability.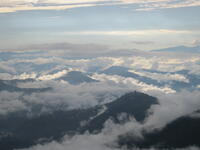 Some of my most favorite moments were simply lying in the grass outside the clinic with other members of the staff just watching. We saw the millings of a small village where either a motorcycle or a bus passing was a rare event. People carried heavy loads on their backs full of grains and grasses to feed their buffalo and goats. Some stopped into the little shop at the end of our hill to enjoy a cup of tea and catch up on local affairs. We watched the neighbors plowing their fields by day and enjoying a campfire by night. Mostly, we just watched the view of the still mountains and the clouds drifting in the sky.
The air was clean and the daily activity simple. As the clinic is a 24 hour emergency facility, it was an environment where anything and nothing could happen in a day. Planning and expectation took on a whole new meaning. I fell in love with my friends and patients and all the dogs that followed me home.
The second part to my Nepal saga is manifesting daily. I now live full-time in Kathmandu with my partner in crime. We watch our future unfolding and we are constantly in awe. Currently, I have Sheng Zhen Gong classes to teach, acupuncture treatments to give, meditations and teachings to enjoy and spiritual practices of Tibetan medicine to research. I think it's going to be great!
May each of you enjoy those things that fill your heart and free your mind!
From Nepal with Love,
Amy Babb, LAc, MAcOM
AOMA Class of 2012

Watch this short video of Amy talking about her experience.