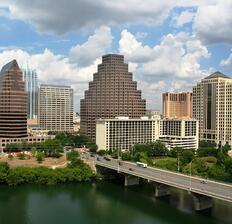 Moving is no small feat - finding a place to live, packing up your belongings, recruiting helping hands, finding a friend with a truck, tying up the pieces at your old place and remembering all of the little details for getting settled in smoothly at a new home. It is no wonder that moving is often considered to be one of the most stressful events in life!

Austin is a rapidly growing city with much to offer new residents. Depending on how far you are moving (i.e. across town vs. across the country); the process of finding a place to live may be different. No matter where you are starting from, the following insights will help you stay organized as you navigate the Austin rental market.
What to Consider When Searching For a Place to Live:
Consider Your Exact Move-in Date
Knowing your move-in date will help you determine when you need to be ready to sign a lease. Some apartments only list their availability 30 days prior to a potential move-in date whereas others list availability 60 days prior. Privately owned houses, condos, and duplexes usually have openings based on 30 day notices, possibly even shorter times, and are generally looking for quick move-ins. As a general rule of thumb, it is best to start your housing search 45-60 days before your anticipated move date.
Lease Options
Before starting your search, it's important to have an idea of what you are looking for. Most apartment communities in Austin offer one year leases. Some properties may offer nine and six month leases, however leases lasting less than six months can be very difficult to find. Many apartment communities charge an up-grade fee for leases shorter than one year, and such fees can be as high as an extra $150 per month. Privately owned properties like rental homes or duplexes almost always offer one year leases.
An alternative option for a shorter term lease is to sublet. Subletting a property can offer a temporary home-base while you explore Austin's many neighborhoods and search for longer-term accommodations.
Rental Application Fees & Deposits
When you have found a place you like and you are ready to submit an application, it is important to keep in mind that there will be associated application fees and deposits required. Planning for these fees will help you create a realistic moving budget.

Application fees can range from $35 to $150 and will vary depending on location. These fees are applied to the cost of running criminal background and rental history checks for potential tenants.

A rental deposit is typically required to be paid to the property owner or management company. Deposit amounts are variable and can range from $200 to $1,000 per unit. Newer apartment communities that offer more amenities typically ask for higher rental deposits. Some apartment communities may include an "administrative fee" as part of the deposit that is frequently non-refundable and may be as much as half of the deposit. However, this type of fee is usually only found in larger, newer apartment communities. Owners of houses, duplexes, and condos often ask a new tenant to deposit the first and/or last month's rent up front.

With many animal-loving residents in Austin, pet deposits are a very common feature of the rental market. Amounts and specific policies may vary depending on individual properties; though, a typical pet deposit will be around $300 - $500 for one pet. Half of this deposit is usually refundable while the other half is typically a non-refundable cleaning fee. Having more than one pet usually incurs additional deposit costs (often $250 per additional pet), and many communities limit the number of pets allowed to three. In some cases apartment communities may charge pet rent instead of a deposit. Pet rent is a monthly fee paid in addition to rent and can vary from $15 - $50 per month, per pet. If you have furry friends, it's important to ask about a property's pet policies before applying.

Before paying any deposit, it is important to verify with the leasing agent whether a deposit is refundable if the rental application is cancelled, withdrawn, or refused. Once an application is approved, the rental deposit is no longer refundable.
Qualifying Criteria for Rental Applications
When evaluating a rental application, apartment communities and property owners will consider/ verify the following:
Applicants must be 18 years of age or older
Previous rental history (broken leases, evictions, lack of rental history)
Criminal background checks (any convictions, misdemeanors, felonies, etc.)
Credit history (outstanding housing debts/payments, utility or rental payment history, etc.)
Whether renter's insurance is required (many properties require policies for $100,000 worth of rental insurance)
Number of vehicles or pets owned (properties may limit the number of each allowed)
Current income
When considering a potential tenant's credit history and income, apartment communities typically expect to see that an applicant's monthly income is approximately three times the amount of monthly rent. Combined income from roommates, financial aid received by students, and potential co-signors' income are additional factors that may be considered. Most communities will allow co-signors for applicants that do not meet the earnings criteria. Co-signors are generally expected to own a home and earn five to six times the amount of the unit's monthly rent. Depending on employment status, applicants may be required to present paystubs, income tax information, bank statements, or confirmation of financial aid eligibility to verify income.
Applicants with less than 6 months of rental history or a low credit-score may be required to have a co-signor on a lease or pay an additional rental deposit. Factors such as a history of broken leases, evictions, or a criminal background will generally result in co-signors being refused. While apartment communities always perform criminal background and rental history checks, not all private owners do so. New residents should discuss the qualifying rental criteria in detail with the apartment community or property owner during the application process.
Rental Rates
Apartment rental rates are generated based on city-wide occupancy rates, meaning prices can fluctuate frequently. Rental prices will also vary based on the type of unit available (e.g. number of bedrooms, square footage, amenities, etc.) and exact location. In addition to checking rental prices for specific properties online, it is also advisable to contact a property directly to verify the current rate and to inquire about any move-in specials that may be offered. Cost of living calculators can help new residents moving from another city or state to estimate housing costs in Austin.
Getting Help with Your Housing Search
It's always ideal to visit a potential house/apartment in person before making a commitment and signing a lease. Unfortunately, this is not always an option if you are moving from a different city or state. Recruiting the help of a leasing agent or apartment locator can help to narrow down your options and find a place that meets your criteria and standards for quality of life. Many apartment locating agents in Austin offer free services to clients looking for housing and it's important to choose a locator that is responsive, professional, and respectful of your housing needs.
In addition to individual leases, alternative housing opportunities exist including roommate arrangements, house shares, and cooperative living. Check out our next blog post in the Moving to Austin series for more information on this topic!
Article Contributors:
Michelle Gonzalez

Michelle Gonzalez is an Austin-based real estate agent and AOMA student. Prior to beginning her studies within AOMA's master's degree program in acupuncture & Chinese medicine, Michelle worked as a full-time licensed real estate agent at Team Real Estate. She has years of experience and expertise within Austin's rental and home-buying markets.
Jillian Kelble
As AOMA's Admissions Coordinator, Jillian Kelble works one-on-one with new students to support their transition to graduate school and is the administrator of AOMA's bi-weekly new student housing digest. In addition to her role within the Admissions Office, she has also worked as a property manager for a privately owned rental property in downtown Austin. A transplant from the west coast, Jillian brings personal insight about the process of relocating to her work.