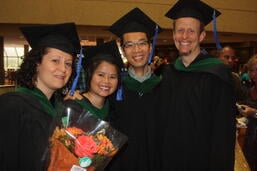 On September 15th, during the annual commencement exercises of the AOMA Graduate School of Integrative Medicine, 33 scholars from the Master of Acupuncture and Oriental Medicine program walked across the stage at the Hyatt Regency on Town Lake in Austin, Texas. After completing a four-year graduate program in Chinese medicine, these graduates are prepared with the knowledge to transform lives through compassionate, patient-centered care.
Master's degree program director Lesley Hamilton led the procession of graduates. Proceedings included the presentation of the Michael Garcia Prendes Herbal Excellence Award, faculty recognition, awarding of degrees, and a healer's oath led by the doctoral program director Dr. John Finnell.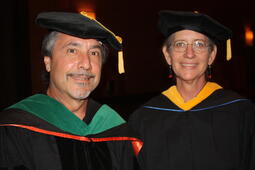 The keynote address, delivered by Rey Ximenes, MD, invited graduates to enjoy the journey and pursue life-long learning. Dr. Rey Ximenes is the owner and director of The Pain and Stress Management Center, an integrative, multi-disciplinary clinic. Dr. Ximenes began his career in medicine as an anesthesiologist working in such places as M.D. Anderson Hospital, Texas Heart Institute, St. Luke's Hospital, Hermann Hospital, St. Joseph's Hospital, and The Texas Children's Hospital in Houston. Dr. Ximenes is the current President of the American Academy of Medical Acupuncture and a Board Member of the Texas State Board of Acupuncture.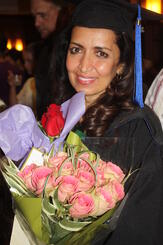 "My wish is that you can persist in the face of adversity, no matter what. Take what you have learned in your classes and expand on it, learn more, fail, and learn more. Most of all persist. We need you to succeed. For you are the future of medicine. You are practitioners who understand that the true meaning of holism is to include ALL we know in an integrative model." He ended the speech by inviting guests to participate in a qigong blessing.
In honor of the late Cal Key Wilson, a student who would have been graduating this year a new award was announced: the Cal Key Wilson Community Leadership Award. Graduating student Joe Phiakhamta announced the award, "Cal was selfless, humble and lived to serve others. His gestures and actions were never about him. He moved with a purpose, to make our days just a little bit better."
Twenty years after the founding of AOMA, the class of 2013 carries on the tradition of embodying the art and spirit of healing, poised to transform lives and communities through acupuncture and Chinese medicine. Congratulations to all the graduates and their families!