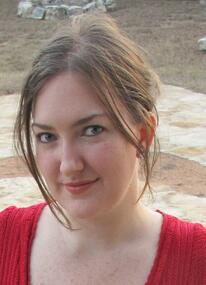 Tara Lattimore is an acupuncture student in AOMA's MAcOM program and hopes to graduate in 2014. For Tara, choosing to become an acupuncturist was an easy and natural path to take. She says, "My family would get weekly reflexology and acupressure treatments in Indonesia and while we used to be nutritionally challenged and eat dinner in front of the TV, we got into mindful eating after my Dad read Michael Pollen's Omnivore's Dilemma."
She recalls an influential memory of the ninth grade on a school trip to Sumatra when another student had a massive panic attack and nausea. The class was far from a western hospital so the student was taken to a local healer for an herbal decoction and acupressure. Growing up with healers in Indonesia has provided Tara with a unique perspective on medicine. This experience eventually led Tara to traditional Chinese medicine (TCM), where she is able to recognize that "people are diverse, complicated creatures and deserve the time and respect to be treated as such." Tara appreciates TCM's acknowledgement that all diseases are different and affect people differently.
In her time at AOMA she has made many contributions to the student body. She launched The Needler, a student produced magazine that publishes articles about Chinese medicine and campus life at AOMA. At first it was a modest project that took much time and effort to get off the ground, but Tara feels the magazine helps build community at AOMA by giving people an outlet to communicate with one another. Tara reflects, "It is certainly a seed that needs to be tended and I hope it will continue to grow long after I'm gone."
Tara has also been giving her time to AOMA Student Association and volunteered at the 2013 Southwest Symposium. This year's Symposium was a transformational experience for Tara because she shifted her focus from the polarization of Chinese medicine versus Western medicine to the integration of both medicines in her future practice.
One challenge to working on extracurricular projects Tara faces as a busy graduate student is finding time outside of class. Realizing that this is also a problem for many of her peers, Tara reflects saying, "All I can do is offer my support for collaboration should they want to get involved in whatever craziness I am working on and do the same for them should they want to spice up student life at AOMA."
When Tara is not busy with school she spends time relaxing with her husband, Brian, her 50 pound standard poodle, Homer, and her feisty feline, Goose Cat. She enjoys cooking and going to the farmer's market and is currently growing her first garden. Tara is a painter and her subjects include moxa and bodies with acupuncture needles. With her husband's encouragement she has started a blog at tealatt.tumblr.com. Here she says, "I can hopefully express my creativity on a more regular basis and since there are so many artists at AOMA, I foresee a riveting community art show in our near future!" She is currently on the China Study Tour with twenty AOMA students and has been updating her blog with amusing stories.