A student entering the world of traditional Chinese medicine needs to have an open mind about differences between tradition, science, and culture. It can be difficult to understand the concepts especially as students learning this medicine in a different language and mindset from the original material. The following books are some recommendations where authors, aware of this struggle, have deciphered the underlying philosophy in a readable way. Some authors in this recommendation list have even tried bridging the gap using western Biomedicine. These books can help develop your understanding of the definitions of wellness, illness, and healthcare. Before starting or even during acupuncture school, moving towards an understanding of evidence-based medicine, these books can help a student navigate this exploratory time.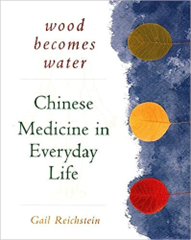 Wood Becomes Water: Chinese Medicine in Everyday Life
Author: Gail Reichstein, L.Ac.
Wood Becomes Water introduces the most foundational theory in Chinese cosmology, the Five Element Theory, where physical, emotional, and spiritual phenomenon can be identified at a simplified level with the language of five elements. Chinese medical theory describes functional organ systems as the five elements of wood, fire, earth, metal, and water. The author gives profiles to each of the five elements; they break down the properties of each element and their relationship with each other while applying the concepts to everyday life and health. Additionally, they explain acupuncture, dietary therapy, qigong, and feng shui in relation to each of the elements. This book would be a great basic introduction for a complete novice student to start thinking about traditional Chinese ideas on the properties and interconnections of organ systems in the body.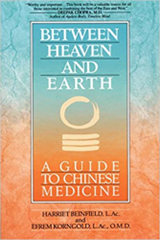 Between Heaven and Earth: A Guide to Chinese Medicine
Author: Harriet Beinfield, L.Ac. and Efrem Korngold, L.Ac., O.M.D.
Between Heaven and Earth is a great guide presented for an audience that may not have any background with traditional Chinese medical ideas. The book begins by describing the authors' own experience of learning about Chinese medicine in the 1970s comparing the medical philosophies of the West and East. The authors explore the basic building blocks of Chinese medicine going through the Yin-Yang theory, Five-Phase theory, tongue, and pulse diagnosis. Additionally, they give a readable introduction of acupuncture, channel theory, herbs, and pattern differentiation. Lastly, the authors talk about "kitchen medicine" by describing the differences in food ideology while giving simple nutritional recipes and tips. This book is a classic introduction to Chinese medicine written in the voice of authors exploring this philosophy that intrigues many beginning students.

The Web That Has No Weaver: Understanding Chinese Medicine
Author: Ted J. Kaptchuk, O.M.D.
The Web That Has No Weaver, like the previous selection, is a staple read for beginning students to Chinese medicine. The author quotes from the classical ancient Chinese texts but also current clinical research to synthesize their own guide about the web that is traditional Chinese medical philosophy. They go into detail about the four fundamental substances, Zang Fu organs, meridian system, pathological factors, four clinical examinations, eight principal pattern diagnosis, patterns of health seen clinically, while thoroughly digesting Taoist theory and modern research in the new edition. The author demystifies and explains traditional Chinese medicine in an accessible way. This is one of the main books that beginning students like to read to introduce themselves to the way of thinking of traditional Chinese medicine.

The Spark in the Machine: How the Science of Acupuncture Explains the Mysteries of Western Medicine
Author: Daniel Keown, M.D., L.Ac.
The Spark in the Machine describes the concepts of traditional Chinese medicine in the more commonly used terms of western Biomedicine to give the readers an explanation of concepts that may seem esoteric at first in an accessible, witty voice. The author begins the book by delving into some concepts that can be commonly overlooked in western Biomedicine including regeneration, fascia, piezoelectricity, systems theory, and anatomical landmarks; they combine these concepts to create their own functional definition of qi and acupuncture point energetics. Then, the author delves into how embryology relates to some foundational concepts of Chinese medicine. Finally, they combine these ideas to describe the meridian system in detail. This book bridges the gap for a student who wants to have more specific comparisons between western Biomedicine and traditional Chinese medicine. If a patient wanted to know where and why acupuncture points exist, this would be a great resource to recommend.

The Complete Illustrated Guide to Chinese Medicine: A Comprehensive System for Health and Fitness
Author: Tom Williams, Ph.D.
The Complete Illustrated Guide to Chinese Medicine offers a comprehensive look into the fundamentals parts making up Chinese medicine. This is a great resource for beginning students to see an overview of the breadth of information that will be covered in a Chinese medicine program. The author briefly covers the basic principles and theory behind Chinese medicine including explanations about the meridian system, Zang Fu system, causes of disharmony that affect health and illness, and diagnostic techniques that can be used to identify these patterns of disharmony. They describe the treatment modalities that are used in Chinese medicine by introducing acupuncture, Chinese herbalism, qigong, and lifestyle ideas. Valuably, they offer example case studies that are insightful on what the clinical experience of a student may look like. This beautifully illustrated book would be a concise organized guide for a student imagining their journey in Chinese medicine studies.

Live Well Live Long: Teachings from the Chinese Nourishment of Life Tradition
Author: Peter Deadman
Live Well Live Long goes deep into the details of the causes and effects of health and illness according to traditional Chinese medical thought. The author explains the concept of the nourishment of life, or yangsheng, and applies it to how life is experienced in modern times by analyzing the effects of modern lifestyles in conjunction with body constitution and causes of disease. They describe the fine points of each aspect related to well-being using Chinese medicine and health cultivation theories developed over centuries alongside citations of modern lifestyle research. These topics include emotions, diet, exercise, sleep, sexual behavior, pregnancy, care of children, nature, music and dance, old age, and death. A student can learn about lifestyle principles that support health which will be handy bringing into personal and clinical practices. This book is a great all-encompassing resource about Chinese health philosophies applied to modern life.