FOR IMMEDIATE RELEASE:
AUSTIN, Texas, November 10, 2016 — AOMA Graduate School of Integrative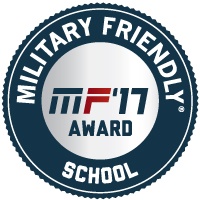 Medicine, a leading college of acupuncture & herbal medicine, announced today that it has been designated a 2017 Military Friendly® School by Victory Media, the leader in successfully connecting the military and civilian worlds.
The Military Friendly® Schools designation and list by Victory Media is the premier, trusted resource for post-military success. Military Friendly® provides service members transparent, data-driven ratings about post-military education and career opportunities.
The Military Friendly® Schools designation is awarded to the top 15 percent of colleges, universities and trade schools in the country that are doing the most to embrace military students, and to dedicate resources to ensure their success in the classroom and after graduation. The methodology used for making the Military Friendly® Schools list has changed the student veteran landscape to one much more transparent, and has played a significant role over the past six years in capturing and advancing best practices to support military students across the country.
AOMA is an approved institution of higher learning for Veterans and participant of the Department of Veteran Affairs (VA) Education Benefit program for the training of veterans and other eligible persons. In order to receive Veteran's Benefits, the veteran must first establish his/her eligibility with the VA directly. Once eligibility has been established, AOMA certifies the veteran's enrollment.
In addition, AOMA has an active Student Veteran Organization whose purpose is to provide education to our peers, practitioners, and the community on the needs and challenges facing our nation's Veterans. The group provides support and resources to ensure continued success and the well-being of our student Veterans and AOMA. For more information about AOMA's commitment to attracting and supporting military students, visit www.aoma.edu.
Media contact:
Rob Davidson
512-492-3034
###
About AOMA Graduate School of Integrative Medicine
AOMA Graduate School of Integrative Medicine offers regionally accredited master's and doctoral-level degree programs in acupuncture and traditional Chinese medicine, preparing its students for careers as skilled, professional practitioners. AOMA is known for its internationally recognized faculty, graduate programs, and herbal medicine program. AOMA provides more than 16,000 patient visits annually in its student and professional clinics, and collaborates with healthcare institutions including the Seton Healthcare Family, People's Community Clinic, The Veterans Affairs Austin Outpatient Clinic (AOPC), and Austin Recovery. AOMA gives back to the community through nonprofit partnerships and by providing free and reduced-price treatments to people who cannot afford them. AOMA is located at 4701 West Gate Blvd. AOMA also serves patients and retail customers at its North Austin location, 2700 West Anderson Lane.