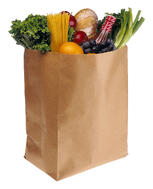 The members of AOMA's campus community are giving back to individuals and families in need this Thanksgiving by hosting a food drive with all donations benefiting the Capital Area Food Bank of Texas.
The Capital Area Food Bank of Texas is an important part of Austin, providing food assistance to 329,400 unique clients annually. AOMA's community can make even just a small difference by providing extra food items during the busy Thanksgiving holiday.
When to Donate:
Monday, November 17 - Friday, November 21, 2014
**All donations must be dropped off by 3pm on the 21st**
Where to Donate:
Donations are being collected in two convenient locations:
AOMA Campus- Building C
4701 West Gate Blvd.
Austin, TX 78745
AOMA North Clinic - Reception Area
2700 W. Anderson Lane, Ste. 512
Austin, TX 78757
What to Donate:
The items most in need are:
Healthy, non-perishable foods

Canned vegetables (pop-tops cans preferred)

Canned meats like tuna, stew, and chili (pop-tops cans preferred)

Pasta and pasta sauce

Beans (canned or dry)

Peanut Butter

Healthy Cereals

Rice & other dry grains
When selecting items to donate please choose:
Items with intact, un-opened, consumer or commercial packaging

Food within expiration date printed on package

Items with non-breakable packaging (NO GLASS, PLEASE)
Who to Contact with Questions:
North Clinic drop-site: Stephanee Owenby, Clinic Business Coordinator / sowenby@aoma.edu
AOMA Campus drop-site: Justine Meccio, Director of Admissions / jmeccio@aoma.edu