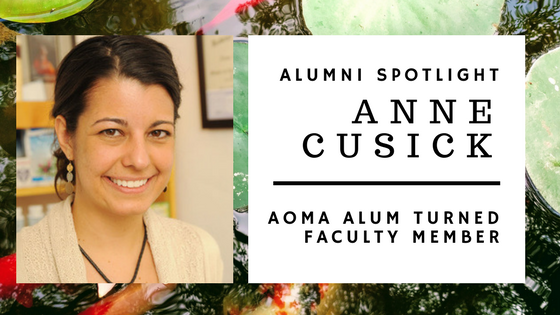 Anne Cusick is one of AOMA's Master's program professors, teaching Acupuncture Techniques 2. In addition to maintaining her private clinical practice, she is active in the local integrative medicine community, where she works collaboratively with a family medicine doctor to deliver comprehensive patient care. Since graduating from AOMA, she specializes in pain management, stress relief, digestive health, and the treatment sleep disorders in her practice. In addition to her studies at the AOMA Graduate School of Integrative Medicine, she has also completed extensive training in Shen-Hammer Pulse Diagnosis and Traditional Japanese Acupuncture. Anne is also one of the most beloved clinic supervisors by her students!
We caught up with Anne to find out more about getting into Chinese medicine, and the transition from study, to practice, to teaching!
When did you graduate? April 2008.
When did you start working at AOMA? January 2014.
What's your favorite thing about AOMA? The people.
Why did you decide to teach at AOMA?
Being a student at AOMA was one of the highlights of my path thus far. To be a part of AOMA again was a blessing.
What's your favorite part of teaching Chinese medicine?
The history, where the tools, philosophies and techniques emerged from and how they have transcended through the years.
What is a favorite book or favorite quote of yours, and why?
One of my favorites is The Prophet by Kahlil Gibran. It has great insights on balance.
What advice would you give to new acupuncturists?
Plant roots. Choose a community you would love to work in, and help nurture it.
What's your favorite thing about living in Austin?
The micro and macro communities. It is possible to find something you love in Austin and easy to find people whom share the same interests.
Want to learn more about the Master's Program at AOMA? Schedule a campus tour and sit in on a class with us!