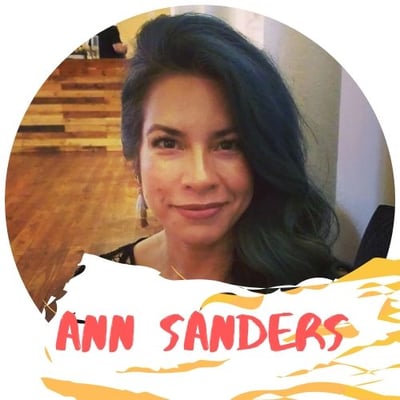 Ann Sanders is one of the students we welcomed in our new Summer cohort. At the end of her first term, we gave her some more homework. Here, she shares a little about her background as well as four things she recommends to prospective acupuncture students.
What is your background?
I've been an RN for the past 11 years working in a variety of settings-ER, Outpatient Surgery, Pain Management, Endoscopy and home health care. Prior to being a nurse, I worked as a Certified Veterinary Technician in anesthesia at Mississippi State College of Veterinary Medicine. I also have my B.S. in Paralegal Studies

Where are you from? And what made you interested in starting acupuncture school?
I grew up in a military family so calling one place home is hard. I've lived overseas and stateside. Although, I moved here from Mississippi this past July.

Two years ago, I was working at my local hospital when it hit me, "there has got to be another way to help and treat patients." I'd become disenchanted with the approach that I was currently practicing. So shortly after that epiphany, I put in my notice and began researching holistic healthcare. I looked at a multitude of avenues and none of them seemed to fit. By happenstance, a friend suggested that I fill in at a mutual friend's acupuncture clinic. I volunteered for a short time and it quickly evolved into my office manager position at Thrive Health Acupuncture Clinic.
I had an awesome opportunity to see the difference acupuncture made in peoples' lives. They were getting results that I hadn't witnessed in Western medicine. And the outcomes were amazing and done without pharmaceuticals or invasive procedures. The more I learned about acupuncture, it's history and philosophy, the more I fell in love with it. So naturally for me, acupuncture school was the next step.

Why did you choose to come to AOMA?
I interviewed at Bastyr and AOMA but I ultimately choose AOMA due to the impressive faculty, the strong herbal competent, tuition costs and the fact it's closer to my family in MS. Everybody here is wonderful so I definitely made the right choice. The staff is amazing!

What class are you most enjoying this term and why?
This is my first term here and I love Dr Wu's Foundations class. It's been a little challenging for me at times coming from a western medicine background. There are concepts that I'm having to relearn along with benching some ideas that I practiced as an RN. In addition to his class, I'm enjoying Practice Management and Ethics because they challenge you to address misconceptions you may have had about your worth and value as a practitioner, what owning your own practice may look like and what ethical situations you may find yourself in.
How do you decompress?
Through nursing, I definitely had to find ways to prevent compassion fatigue. Prayer/meditation; yoga; movies (huge SciFi and Marvel Nerd); travel; music and concerts/festivals; Zip-lining; camping; reading; gratitude journaling and recently, calls to family and my support group back home. In the near future, I hope to add skydiving to the list.


I feel like new students have this beautiful, fresh outlook. What are four things you would recommend to someone hoping to start acupuncture school soon?
Observe in an acupuncture clinic for a few months and note the patient-centered care and time spent with them along with the business side of the clinic. Also receive treatments and see how your body responds to acupuncture.
Volunteer at a doctor's office or hospital and take note of patient care, the western medicine model with diagnostics with recommended treatment.
Formulate your personal budget and work the kinks out. Knowing how to manage your personal finances will only benefit you in your practice.
Read, read, read on acupuncture and finances! AOMA has an excellent list of recommended books to explore. Sales experience is a plus when you have your own clinic. Work with the public and get comfortable talking with people while in a service role.
Thank you so much for sharing both your advice and your precious finals week time, Ann! It's so nice to have new, fresh faces and perspective on campus.