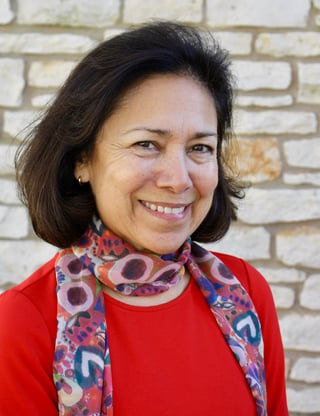 Have you ever worked with AOMA before?

I have! I had a relationship with AOMA for many years before working here. I knew AOMA through my position at Seton Southwest Hospital. When we held community health fairs, we always invited AOMA to educate patients about acupuncture.
Have you tried acupuncture?
Yes! I've been a long time patient of Dr. Zheng Zeng at AOMA acupuncture clinics. I had trouble with hip pain from running and other inflammation problems that she helped with immensely.
Wow! So you're a runner?
I'm a big marathon runner! I'm in a group that races competitively. I just finished the 3M half marathon and won the division for my age group. I run or cross train everyday except for Fridays.
Are you married? Does your partner run?
Yes! My husband and I actually celebrated our 41st anniversary this past December. He got me started with running and I joke that he's created a monster! He can't run anymore because of knee issues, but he travels all over the country and world to support me at my races.
What's something surprising about you?
I only learned to swim 10 years ago - it terrified me before! I was so determined to race in Ironman events that I finally sought the help of a recommended fitness trainer to start. I love it now! It is such a gift. I now teach others afraid of water how to swim. So if anyone out there thinks they can't swim I'd love to help. If I can swim, anyone can!
What was your work life like before AOMA?
I first got into healthcare as a respiratory therapist. I started as an ICU therapist and was moved into supervisory and management roles. I was following my husband's career at that time and that took us away from Austin for a while. When we returned, I got my Master's in Healthcare Administration and immediately started working in hospital administration after that. I spent 30 years as a healthcare executive; 21 of those years with the Seton Healthcare System here in Austin, 17 of those 21 as the VP/Administrator/COO at Seton Southwest Hospital.
So I see that also you have a PhD! Tell me about that!
Yes! In 2000 I received my PhD from UT Austin. I have a dual one in Business Administration and Educational Administration. My dissertation research was in the area of organizational change. I serve as an adjunct professor at Texas State and Concordia University in their Healthcare Administration and Business Schools.
Wow. That's incredible, we're really lucky to have you. What's your best piece of advice to students, as someone who's done a lot of school?
What I have found is sometimes people don't recognize the value and gift of education, when you are sometimes struggling to get through it. It's such a gift. We're so blessed to have so many opportunities in schooling available to us, especially here in Austin. I'm a believer in lifelong learning.
What are your goals here in your position as CEO?
My biggest goal is to help AOMA achieve it's established Strategic goals. One of the most important is the desire to find an academic partner so that we can grow in a lot of different ways. We had hoped the Bastyr partnership would be a good fit, but as you know it wasn't. The good news is that there are plenty of wonderful organizations out there who would make very good partners.
Another very important goal is to heighten awareness in the community about AOMA and all the great work we do in education, in direct care, and in our community. We've already started work with some publications I have connections with. AOMA has been around for 25 years and it's still a hidden, secret jewel. It should be top of mind when anyone thinks about holistic care in Austin.
If you had a superpower what would it be?
Wow that's a great one. If I had a superpower, it would be to instill compassion in all relationships. I think compassion builds empathy and empathy helps us work together much more effectively and peacefully. I think that would be a great superpower!
Well… I was going to ask you what do you do when you're not helping AOMA run… and it sounds like you're literally running! Do you have time for anything else?
*Laughs* so true! Running is one of my passions. I'm also very passionate about making a difference in Community Health and making the City of Austin a healthier community. I am on the Mayor's Health and Fitness Council and Board Chair for the 2nd year, in a 3 year term. We're doing this wonderful work with schools, neighborhoods and faith based groups, giving them the skills and incentives to eat well, exercise and take care of themselves. We're trying to address these kinds of issues. I think it's really important to look at the whole person.
I also serve on several advisory councils and am involved in research on human resilience. We presented on human resilience at SXSW and the Healthier Texas Summit. We haven't published anything yet, but we're working on it and hoping to continue broaden our research in this field.
Is there anything else you'd like students to know about you?
My door is always open - I'd love to know what's on their minds, what they love about AOMA and what we can do to support them better. If you have anything you would like to share with me, you can make an appointment, send me an email, or leave a voicemail. We're working on setting up a town hall meeting on a regular basis, so I am hoping to meet more of you then!
Read more about Mary here.